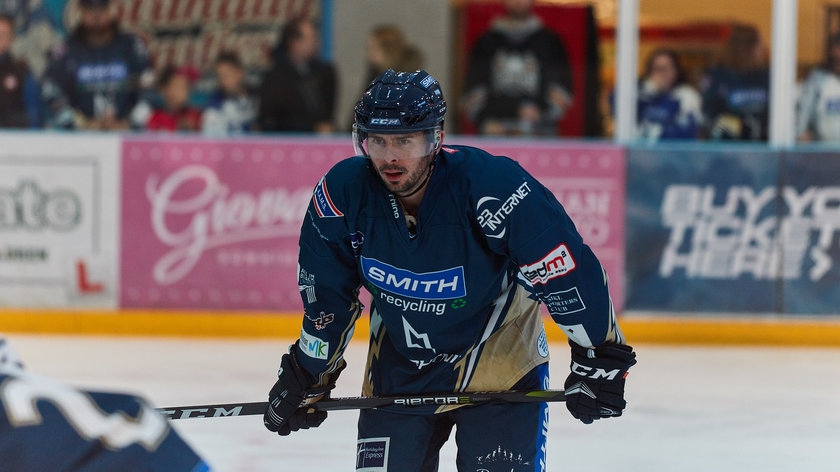 ​​​​​​​The Smith Recycling Milton Keynes Lightning fought back against the Fife Flyers to push the game into overtime, securing a point from a 6-5 loss.
The team showed real energy at times throughout the game and securing a point was fully deserved from such a spirited battle.
Speaking after the game, player-coach Tim Wallace was impressed with how his team pulled things back, especially so late in the game.
He commented: "I think it's been a while [since] we actually came back, especially in the third period, so you've got to give the guys credit for that."
"We were short in the back end, I think [Martin] Mazanec had to pull himself, he had a little injury but the guys that are here, we're doing all we can."
"We're putting our heads down and grinding it out but really proud of the guys to get one point tonight."
He added: "I think we're always trying to get the win, but one point is better than none."
"We're definitely trying to win each game, get the two points, but to come back in the third like that isn't easy to do but the guys that are here are working hard."
With the team heading out on the road early on Sunday, Wallace added: "We've got a really early bus tomorrow so hopefully we can grab some points up in Scotland [against the Glasgow Clan]."
The game saw the Lightning finish with just four defencemen after Mazanec's injury, with Clay Anderson having returned home to the USA a few weeks earlier.
Undoubtedly, this has raised some questions by fans on social media over the progress of the team's recruitment.
On that subject, Wallace explained: "I am talking to quite a few players, I am just trying to get a pass by the owners to get approval and once that happens, once we get the right players in here, I think we can be a really good team."
He concluded: "It's getting into desperate times right now but I'm doing all I can to get the right guys in here and hopefully we can do that pretty soon."