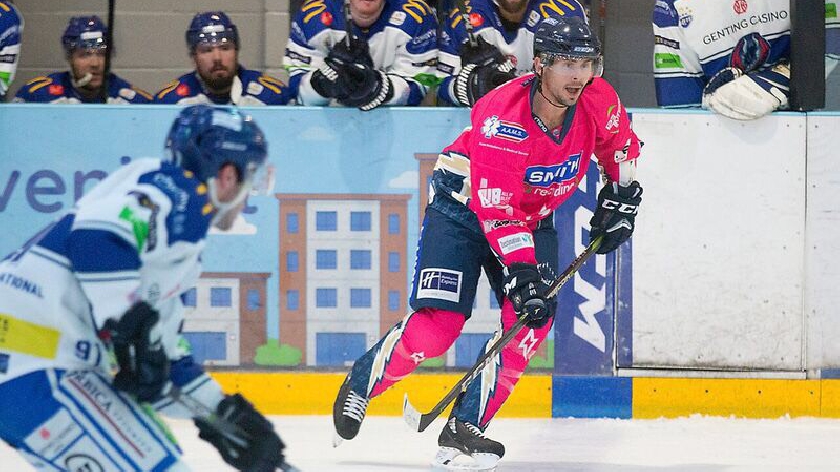 Image Credit: Tony Sargent
The Smith Recycling Milton Keynes Lightning continue their Challenge Cup campaign in front of the FreeSports cameras as they travel to face the Cardiff Devils tonight (Sunday 16th September).
The Lightning got their cup campaign off to a solid start with a 4-2 home victory over local rivals the Coventry Blaze.
American forward Tim Wallace registered two assists in last night's victory and spoke of the upcoming game against Cardiff afterwards.
When he was asked about playing in front of the cameras, Wallace commented: "I don't think it'll affect me personally, but I hope the other guys don't get too scared of the cameras and the lights."
"It should be a lot of fun, they're a good team and we've got to be ready to go tomorrow."
The former NHL player is no stranger to the Devils, having played against them for the Sheffield Steelers last season.
Wallace is well aware of what is needed in order to earn points against the reigning league champions and believes the Lightning need to play smart if they hope to leave Cardiff with two points.
When asked what the team needs to work on ahead of the game, Wallace said: "We can't give away easy chances, I thought we gave them [Coventry] two-on-ones, breakaways, getting beat in the d-zone and a couple of penalties."
"I think we've got to be smarter and I think Patrick [Killeen] played unbelievably, he kept us in it and had some big saves for us."
"Against the better teams that's going to come back to bite us, so we've just got to be a little smarter not giving up easy chances to the other team and I think we'll be alright."
While the main goal of any hockey team is to compete in the regular season and the playoffs, many European leagues have additional cup competitions – giving teams an extra piece of silverware to compete for.
And Wallace believes players want to win these kinds of competitions.
He commented: "I think the competitive juices are in all of us. Once you're out there you want to win the game."
"A cup would be cool, winning any sort of championship is unbelievable so we'll just take it one day at a time and just try to win each game."
The Lightning face-off against the Devils in tonight's live televised match, with coverage starting on FreeSports at 5:30pm.