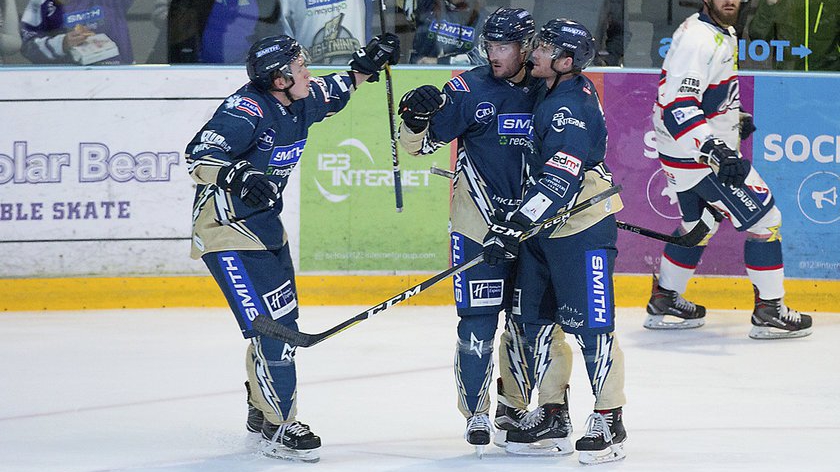 The Smith Recycling Milton Keynes Lightning take on the Glasgow Clan in front of the FreeSports cameras tomorrow (Wednesday 14th November).
The Lightning have been working hard to help promote their sole televised home game of the season, a game that will also welcome former head coach Pete Russell back to Milton Keynes for the first time since leaving the club this past spring.
Tickets for the game have been reduced to just £10 in hopes of getting more fans into Planet Ice MK Arena – demonstrating what a Lightning game night is about.
The game has been publicised heavily on social media, with videos of players encouraging people to come.
For the game itself, the Lightning (3-11-2) will be hoping to end an eight-game losing streak in the Elite League.
The Lightning have kept teams close in recent games, but have often found themselves heavily out-shot and on the back foot late in the third period.
Their most recent game against the Cardiff Devils saw Doug McKay's side take the lead heading into the second period, but they were unable to hold on to the 2-1 score-line and saw the Devils earn three unanswered goals before being kept scoreless in the third.
The home side will be relying heavily on top points producers Tim Wallace (4G-11A), Andreas Valdix (4G-9A) and Eric Neiley (8G-4A) to provide enough offence in front of the big home crowd.
Goaltender Patrick Killeen, who turned aside an astonishing 52 shots against the Devils, will undoubtedly be the team's biggest piece – making a number of dramatic saves since arriving at the club this off-season.
On the defensive front, fans will be hoping that veteran blueliner Ryan Lannon will be returning to the lineup after spending the past few weeks on the sidelines with an injury.
Having a full team ready to face the Clan (8-7-0), will be necessary for McKay – with the Scottish club winning their past two games and sitting seventh place in the league.
The Clan have a number of players that will pose a threat in front of the net for the Lightning, with Brendan Connolly (11), Scott Pitt (7) and Josh Gratton (6) leading the way in goals scored.
The game should be a high-intensity affair with the added incentive of securing victory in front of television cameras for both teams.
For the Lightning, it is an opportunity to show people across the country the environment at home games and could be the positive boost needed to get a long-awaited win.
The game kicks off at 7:30pm and can be viewed on FreeSports (Freeview HD Channel 64, Sky Channel 422).