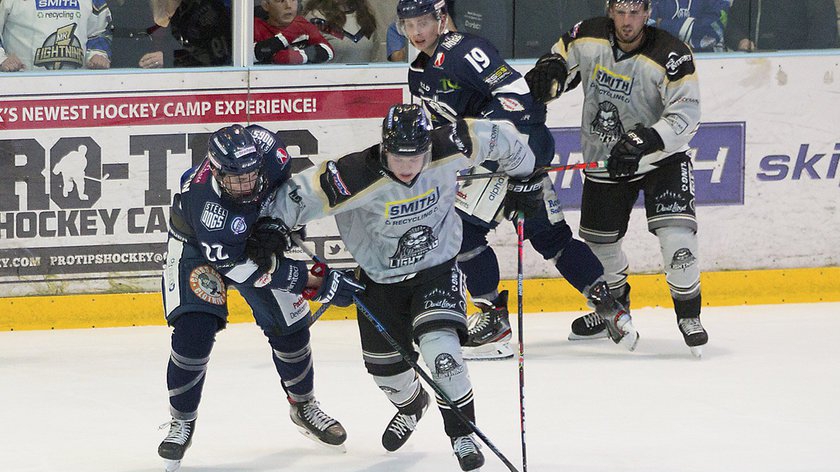 Image Credit: © Tony Sargent
The Smith Recycling Milton Keynes Lightning welcome the Sheffield Steeldogs to Planet Ice MK Arena tonight for the fourth encounter between the two sides over the past month.
Including pre-season, the Lightning (1-2-0) and Steeldogs (3-0-1) are very familiar with each other and, after tonight's game, will have played in each other's back yard twice.
The Lightning have yet to overcome the Steeldogs this season but will be buoyed by the strong 8-4 showing they had in front of their own fans last weekend against the Leeds Chiefs.
Head coach Lewis Clifford will be hoping for his side to be more disciplined in this encounter, having taken a slew of penalties in their opening three games.
The Lightning have a strong penalty-killing unit, but fatigued will see mistakes being made and Clifford will be hoping that his side put themselves in a position to win and not on the back foot.
On offence, the Lightning will once again be relying heavily on their top line of Tomas Kana (5G, 3A), Russ Cowley (2G, 6A) and Cale Tanaka (2G, 4A) to lead the way, but depth in scoring throughout the team will ensure they remain competitive from the very first puck drop.
The Lightning defence, who may still be without James Griffin for this game, will need to hold firm against another strong top forward line that sports Nathan Salem (4G, 5A), Vladimir Luka (4G, 4A) and Kieran Brown (2G, 6A).
Goaltender Jordan Lawday, who has put in a number of excellent saves for the Lightning, will likely get the start once again, keeping Brandon Stones on the bench against his former team.
After showing the will and determination to battle for the win last weekend against the Chiefs, the Lightning will be hoping to put on another show for the home crowd and start gaining ground on the rest of the league.
The two sides get things underway at Planet Ice MK Arena at 7pm tonight (Saturday 5th October).