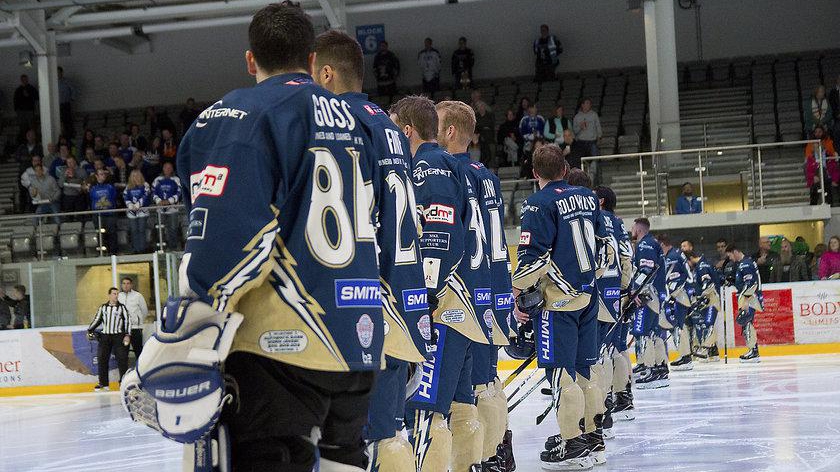 Image Credit: © Tony Sargent
The Smith Recycling Milton Keynes Lightning have provided an update on the status of some players within their squad ahead of the team's home game against the Dundee Stars this evening (Sunday 30th September).
The Lightning (1-3-0) are looking to snap a three-game losing streak in the Elite League, having won their opening game of the season 3-2 against the Sheffield Steelers.
The team have played largely short-benched this season and were without three of their defencemen for last night's 4-1 away loss to the Manchester Storm.
Via the Lightning's official Facebook page, the team have provided an update on the three players absent from last night's game.
Latvian blueliner Rihards Grigors, who is currently playing for the team as injury cover, will return to the line-up for the Stars' visit after serving a one-game suspension for a headbutting incident in the team's loss to the Coventry Blaze last Sunday.
Englishman, and longest-serving player on the team, James Griffin will receive a late fitness test to determine whether or not he will be able to return from an injury that has kept him out of the past three games.
The team also provided an update on Canadian Nelson Armstrong, who has not yet been able to join the team due to delays in receiving his visa.
The team has confirmed that Armstrong's visa has been approved, but he is still waiting for his passport to be returned to him in Canada - with the talented defenceman expected to travel over to the UK once he receives it.
The Lightning welcome the Stars to Planet Ice MK Arena today in a league fixture, with face-off scheduled to take place at 5:15pm.