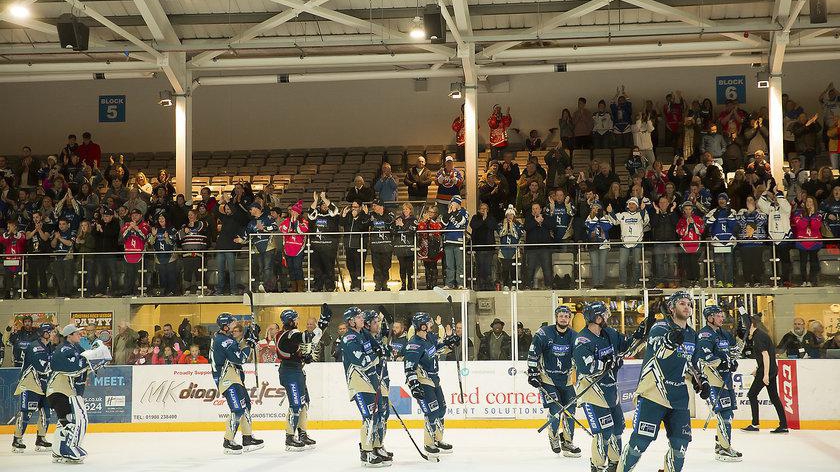 Image Credit: © Tony Sargent
The Milton Keynes Lightning have today announced the signing of promising 18-year-old defenceman Sam Russell.
The right-handed shot, who was born in Milton Keynes, joins the Lightning after spending the past four years in Canada and the USA.
Russell, who began his playing career with the MK Storm back in 2012, spent three seasons with the Ontario Hockey Academy before suiting up for the New England Wolves of the Eastern Hockey League last season.
The young defenceman now returns home to get a taste of adult hockey for the first time and will don the #39 jersey for the Lightning this season.
Head coach Lewis Clifford, who previously coached Russell at junior level, commented on his new signing, saying: "I am really looking forward to working with Sam again."
"I coached him when he was a very young player with obvious talent, and since then he has been away and received some excellent hockey education, both here and across the Atlantic in North America."
He added: "The upcoming season will be Sam's first at senior level and there will be a period of adjustment for him to get used to that, however, he has all the attributes he needs to make a success of it both physically and mentally, he is a very switched on lad."
"He will be keen to learn, not only from my coaching but also from the more senior defencemen on the team."
He concluded: "Sam has a mature head on his shoulders for an 18-year-old and I have no doubt he will grasp this opportunity and show all the Lightning fans what he is capable of when the season comes around."
Speaking of his decision to return home and join his boyhood club, Russell himself commented: "I feel as if my hockey career has gone full circle, and I am returning home to where it all started."
"As a Milton Keynes boy, I first stepped onto the ice with MK Storm and spent Saturday evenings watching MKL. I'm now really excited to play for my home team, and to be pulling on the Lightning jersey."
He concluded: "I am looking forward to the first team practice, the first game and getting underway. You can already feel the atmosphere building!"