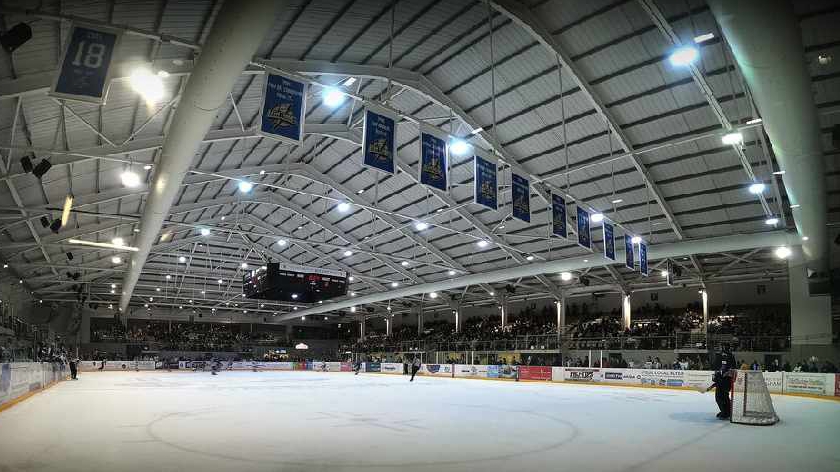 Image Credit: © Tony Sargent
​​​​​​​The Smith Recycling Milton Keynes Lightning continued building their roster for the 2019/20 season with the signing of promising young forward Calum Robertson.
Robertson, who hails from Kirkcaldy in Scotland, joins the club after spending the majority of last season with the Fife Flyers of the Elite League.
The 18-year-old has played 78 games in the top tier of British hockey over the past two seasons, also spending a 37-game spell with the Edinburgh Capitals in 2017/18.
Robertson earned his playing time at that level after dominating the Scottish National League, with an impressive 35 goals and 69 total points in just 36 regular season games at that level.
The promising young forward comes from a family of hockey players, with his brother (Aaron) currently excelling in the SNL with the Murrayfield Racers and his father (Iain) having earned a point-per-game in 203 appearances in the BNL – the predecessor of the current EIHL.
The diminutive left-handed shot now takes his talents down to England for the first time in his career, becoming head coach Lewis Clifford's sixth signing this off-season.
Robertson, who will don the #20 jersey this season, brings with him the experience of representing Great Britain at Under-18s level – helping to guide the national side to a gold medal at the 2018 World Junior Championships (U18 Division 2A).
Speaking of his decision to join the Lightning, Robertson pointed to the club's fan base's reputation, commenting: "I've signed because I think it's a great opportunity to play in this new league and seems to be a great fit for me and where I'm at in my career."
"I've chosen MK because I've heard nothing but good things about the organisation and coach, and I'm definitely looking forward to playing in front of the barmy army - they've been incredible the times I've experienced playing in MK!"
Head coach Clifford views Robertson's potential as an asset for the team moving forward, commenting: "Caly has a whole load of raw talent and huge potential."
"I've seen him play for GB U18's in their televised games a year ago and I was lucky enough to see him play in the England v Scotland game at the conference tournament over the May bank holiday weekend - all national bias aside, he was one of the best players on the ice for either team."
He added: "He brings the experience of training and playing with an Elite League team in Fife (and Edinburgh before that) and that will hold him in good stead to play a much larger role on our team where we'll give him the opportunity to use his skills and abilities in a variety of situations."
"In the past, we have had a great deal of success in signing talented young Scottish players, and I am pleased to have signed Caly to hopefully continue that pattern of success."