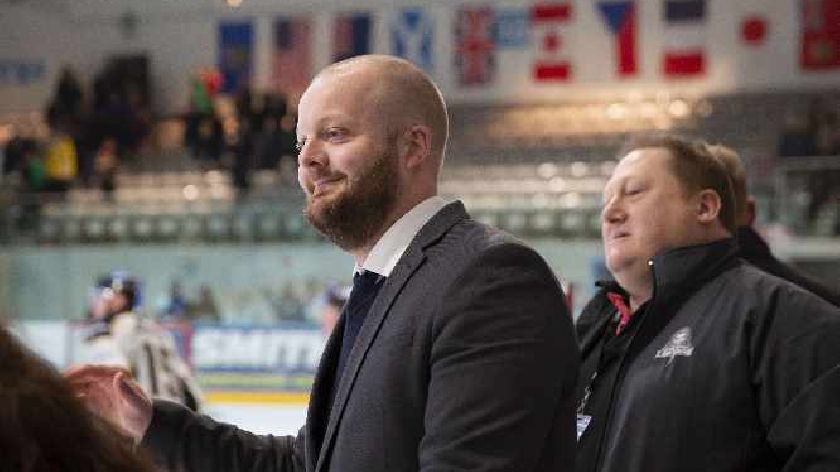 Image Credit: © Mel Dickens
The All In Black Milton Keynes Lightning have today announced the signing of forward Sean Norris ahead of the 2021/22 season.
The 21-year-old Ascot native joins the Lightning after consecutive seasons of registering over a point-per-game, both at the NIHL National level with the Basingstoke Bison and NIHL 1 level with the Slough Jets.
Norris may be familiar to some hockey fans in Milton Keynes, having spent time during the 2018/19 campaign playing for the Milton Keynes Thunder, where he registered six goals and 11 total points in 19 regular season appearances.
The young forward has plenty of potential along with his existing offensive record, and will look to develop his game further under the guidance of head coach Lewis Clifford.
Speaking of the club's latest addition, Clifford commented: "I have worked with Sean before and in the past 2 years seeing him play against us I have seen a huge improvement in his game."
"Sean is a dynamic skilled forward, he has a high compete level, great athleticism, good hands and a fantastic shot."
He continued: "He is coming here to be a player who we rely on to play in all situations – as a winger who can play a ton of minutes 5 on 5 but can also work in a number of roles on the PP and his skating and competitiveness make him an asset on the PK."
"He has a very high ceiling that he's determined to reach and I am really excited about playing a part in him fulfilling that ambition."
He added: "Sean will be a player the MK fans will be talking about on a Saturday night in the bar, he will create a buzz around the rink. I am delighted to have signed Sean for the 2021-22 season."
The player himself added: "I'm really happy to have signed for MK. Every time I come here I've thought about how electric the crowd is. The facilities here are top notch and the atmosphere amongst the boys in the room is already great even at summer skates."
He concluded: "If I could use one word to sum up how I'm feeling about the upcoming season it would be 'buzzing.' I've played with some of the boys here before and played for Cliff with Thunder so I feel like I should settle in quite quickly, I can't wait until September."