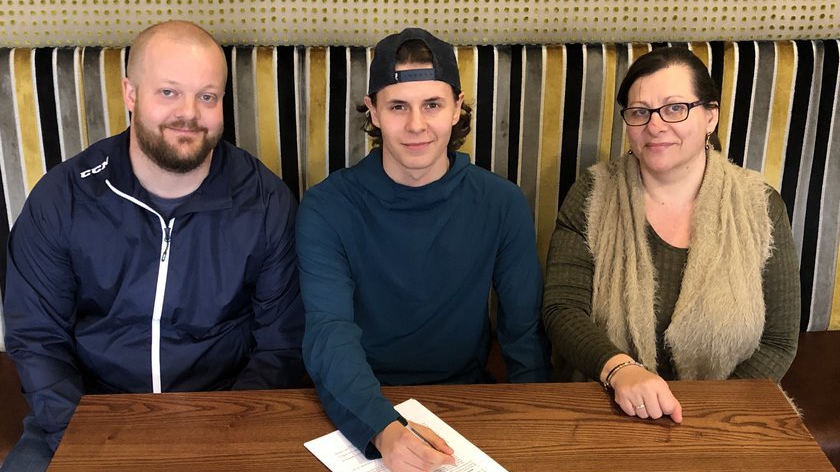 Image Credit: Milton Keynes Lightning Ice Hockey Club
The Smith Recycling Milton Keynes Lightning have today revealed goaltender Jordan Lawday as the first signing of the Lewis Clifford era.
Clifford, in his first pre-season as Lightning head coach, has opted to bring back a familiar face in Lawday, who played under him with the Milton Keynes Thunder last season.
Lawday joined the Thunder last season on a two-way contract with Elite League club the Cardiff Devils, featuring in 39 regular season games and posting a .914 save percentage - helping the Thunder reach the NIHL playoffs.
The 20-year-old Basingstoke native has built up plenty of experience over the past two seasons and looks set to compete for the team's starting role in the newly formed second tier - with Lawday having been named to the NIHL South 1 All-Star team in 2018/19.
Lawday also brings with him some international experience, having helped lead Great Britain to a World Championship (Division 2A) bronze medal in 2018.
Commenting on his first signing as Lightning head coach, Clifford said: "I am absolutely delighted to have secured the signing of Jordan for the upcoming season. Not only did I coach him this past season with the Thunder, I also worked with him in the past in the South West system - and as happy as I was to sign him last summer, I am even more so this time around!"
"Jordan is a young man with a huge amount of talent and ability but for me, the most important and exciting thing is that he is nowhere near the finished product yet! I don't know any other player of this age who works harder on their game and shows such dedication to his craft."
"I am comfortable to have Jordan in our net any time, and I know the Lightning fans who don't already know what he's all about will love him and what he brings to the ice."
"It's a great advert for the team I am building that when I speak to potential signings and tell them that Jordan is going to be the goalie, every player says thats a great signing and that they would be happy to play for a team with him in the net."
Lawday, speaking of his decision to join the Lightning, commented: "I'm really happy to be back in Milton Keynes and having Cliff as my coach again! I was in a tough spot last year when Cardiff Fire folded just before the season started, so I reached out to Cliff for a team and I signed the next day!"
"I have a lot of respect and trust in Cliff that he'll bring in a great team who can really compete next season. Lightning may not have had the best time last season but one thing I kept hearing was what an amazing fan base they have and how passionate they are - now I can't wait to experience it for myself!"