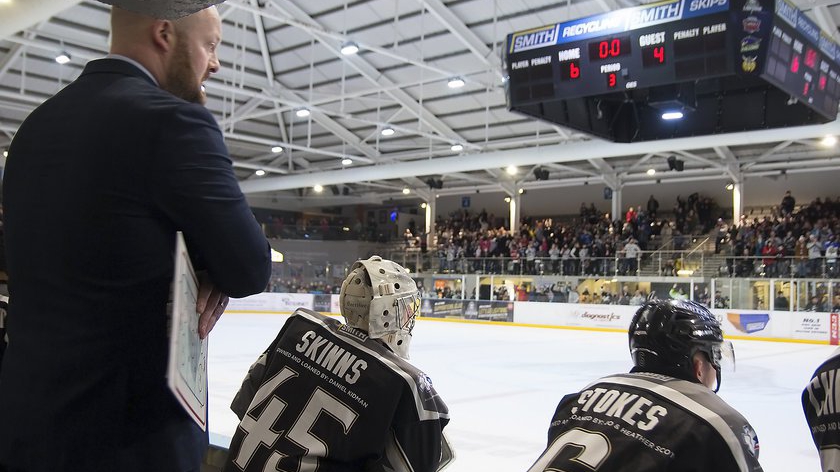 Image Credit: © Tony Sargent
The Smith Recycling Milton Keynes Lightning continue to build ahead of the 2020/21 NIHL season with the signing of Edgars Bebris.
The Latvian-born forward has spent the majority of his playing career in England, starting out with the Sheffield Rapiers in the English Under-16s league in the early 2000s, qualifying him as a Brit for the NIHL National.
His 6-foot-4, 198lbs frame will provide the Lightning with a large, physical presence who will also contribute heavily offensively, having registered an impressive 65 points (32 goals, 33 assists) in just 50 league games for the Swindon Wildcats in 2019/20.
The signing of Bebris is a positive step forward for the Lightning as they seek silverware in their second season in the NIHL National, with the veteran forward also being the first signing that head coach Lewis Clifford did not bring back from last season's team.
His jersey number with his new club has not yet been decided and will be announced at a later date.
Speaking of his latest signing, Clifford commented: "I have said a few times I don't want to make too many changes to the roster from last season, and I will only make changes that will improve the team."
"I have been a big admirer of the way Eddie plays for a long time, ever since he started playing in the EPL for Sheffield."
He added: "Eddie is an offensively talented player, a guy who plays hard, a big physical presence and he can play in a number of situations. I'm looking forward to working with him when the season starts and seeing him pull on the MKL shirt for the first time."
Speaking of joining the Lightning, Bebris commented: "I'm extremely excited to join the MK Lightning organisation and I'm looking forward to meeting everyone down there. I can't wait to start competing again and help the club win silverware."
He added: "I'd like to thank the Swindon Wildcats players, staff and fans for two great seasons and wish them nothing but the best."