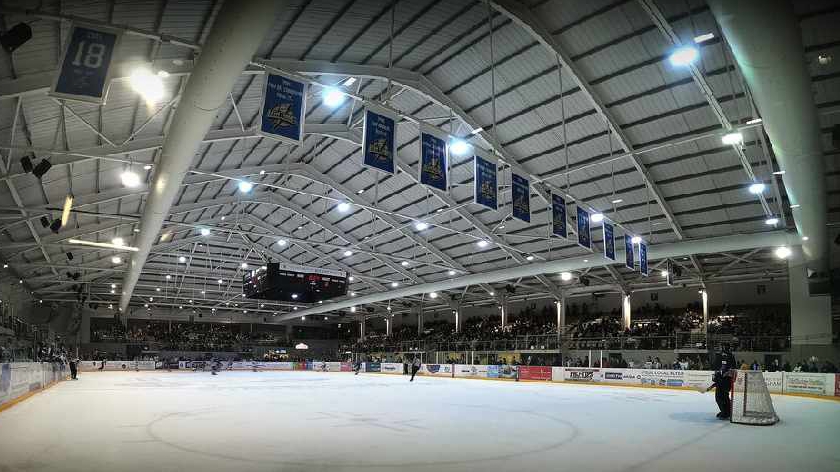 Image Credit: © Tony Sargent
The All In Black Milton Keynes Lightning have rounded out their roster for the 2021/22 season with the signing of Canadian forward Adam Laishram.
With pre-season fixtures just around the corner, the Lightning have finalised their roster ahead of the new NIHL National campaign, seeing 24-year-old Laishram take up one of the team's available import player spots.
Canadian born and trained, Laishram has roots in the United Kingdom and holds a British passport - meaning he is eligible to play in the NIHL National without the need for a visa, but his playing history means he cannot be classed as a British player.
The Ashburn, Ontario native brings with him a wealth of experience in both the Canadian major juniors and college system, with a Memorial Cup championship to his name thanks to his stint with the Windsor Spitfires back in 2017.
In all, Laishram featured in 225 regular season games, scoring 38 goals and registering 91 total points, while playing for some historic franchises such as the Spitfires, Hamilton Bulldogs and Belleville Bulls.
After representing St. Francis Xavier University from 2017 until last season (62GP: 14G-11A), Laishram will now bring his talents to Milton Keynes and look to contribute to a competitive, and young, team under the guidance of head coach Lewis Clifford.
Laishram will wear the #48 jersey during his time with the Lightning.
Speaking of his final off-season addition, Clifford said: "Adam is an exciting addition to the roster. Having done my research, watched videos and received references I know that he will fit right into our team. Adam is a great skater, with a lot of speed, works hard in all three zones, and has a great hockey pedigree."
"To receive an award for being the hardest working player in the OHL proves that we've signed a player not only with a whole lot of talent but also a relentless work ethic."
Clifford added: "I'm looking forward to working with Adam and seeing his attributes compliment the rest of our roster on the ice."
Laishram himself commented: "I am very excited to be joining the Milton Keynes Lightning for the upcoming season."
"Having British roots, coming overseas to play has always been a big interest of mine. When the opportunity to join the squad and play in front of such a great fanbase arose, I was thrilled."
He concluded: "The management, staff, and players have been very welcoming, and I can't wait to get things started!"