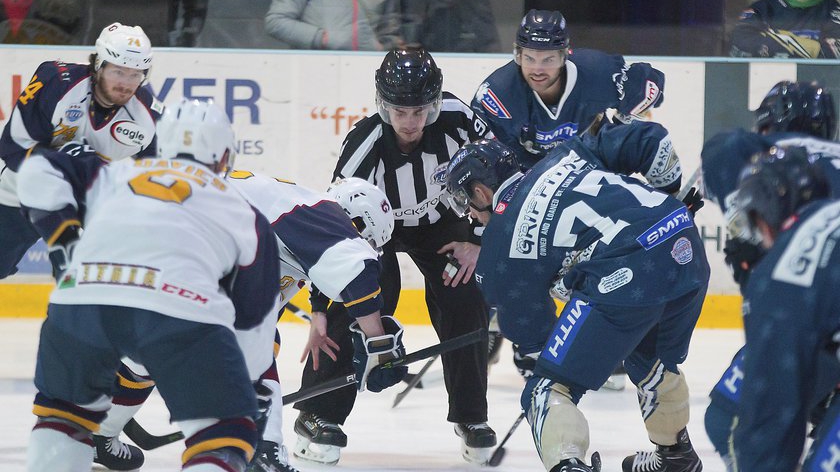 Image Credit: © Tony Sargent
The Smith Recycling Milton Keynes Lightning were unable to score for a second straight home game in a 1-0 loss to the Guildford Flames last night.
The home tilt kick-started a three-games-in-three-days spell for the Lightning, who travel to Guildford today before heading out to face the Belfast Giants tomorrow.
Luck was not with the Lightning in the low-scoring loss to the former EPHIL rivals, with the team hitting the post on three different occasions and rebounds coming to quickly or too far away for players to reach.
The game started with great energy and aggression from both sides, with each team sharing shots on net early on in the third period.
It was end-to-end for the entire 20 minutes, though the Flames did have the majority of shots - a theme that has been developing in recent games for the Lightning.
The first ended with no goals scored and no penalties, with both teams showing impressive discipline for much of the game.
The second period started somewhat slower than the first, with the Lightning heading to the PK with James Griffin sent to the box for a late hit after just two minutes.
The Flames, who sported the second-best power-play unit in the league entering the game, were unable to convert their chances.
The Lightning had their first opportunity on the power-play when the Flames' Corbin Baldwin was adjudged a hooking penalty - the first of two for the Canadian defenceman in this game.
Both teams' goalies stood firm throughout, with Patrick Killeen once again making big glove saves and Chris Carrozzi getting good stops with his pads throughout.
Things remained level until just after 51 minutes of the game had passed, with Swedish defenceman Calle Ackered receiving the puck from across the ice - sending a strong slapshot beyond Killeen and the near side of the net.
The home side continued to battle and pulled their goalie to give themselves a man advantage with just over a minute left in the game.
Neither team could convert and the buzzer sounded with the final score at 1-0.
It was a difficult loss for the Lightning to take, but one that showed the team is able to keep on par with teams for a long period. If some bounces had gone a different way, there's a real possibility that this scoreline would have been very different.