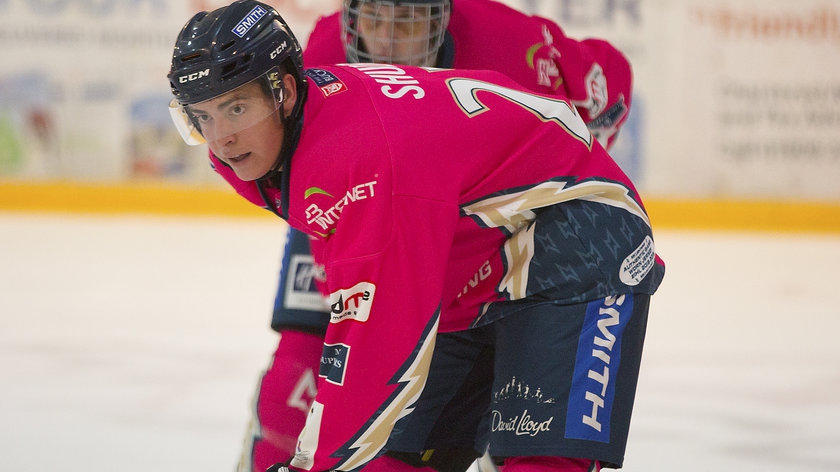 Image Credit: © Tony Sargent
The Smith Recycling Milton Keynes Lightning will be without British forward Cole Shudra for the next two games after he was handed a two-game suspension.
The suspension, handed down by the Elite League's Department for Player Safety and effective immediately, comes after Shudra received a game misconduct penalty for a check from behind in last night's 4-1 loss to the Belfast Giants that resulted in both sets of team's players getting involved in a minor scuffle.
Regarding the suspension, the Elite League made the following official statement: "The incident was reviewed by the EIHL Department of Player Safety and determined supplementary discipline is required under Category 1 – 'Careless' – insufficient attention or thought to avoid harm or error."
"Liable to happen as a consequence of, by intending to affect an opponent through a reactionary or accidental motion or the incident is deemed careless causing negligence."
"Cole Shudra delivered a body check deemed illegal and considered a check from behind."
"After Shudra did a soft dump of the puck from centre ice into the corner, a skating battle ensued for the puck. Just inside the blue line, Shudra recognised, or chose not to win, the skate race."
"At approximately the top of the face – off circle, Shudra made a choice to shift his skating pattern to his right to gain a back-side approach on his opponent into the check."
"From approximately the face off dot to the boards where contact occurred, Shudra had the back number of his opponent directly in front of him."
"This should have been a key indicator to Shudra that he has to at least minimise contact, avoid contact or pull an angle into contact."
"Instead, Shudra checked the opponent directly from behind, had no regard for the puck and is considered responsible for the back – side contact. Although there was no apparent injury, the possibility of injury on these types of checks is very high."
"Effective immediately, Cole Shudra is suspended for 2 games."
As a result of the suspension, Doug McKay will be without the British forward for the Lightning's rematch against the Giants tonight (Saturday 20th October) as well as their away trip to the Coventry Blaze tomorrow (Sunday 21st October).