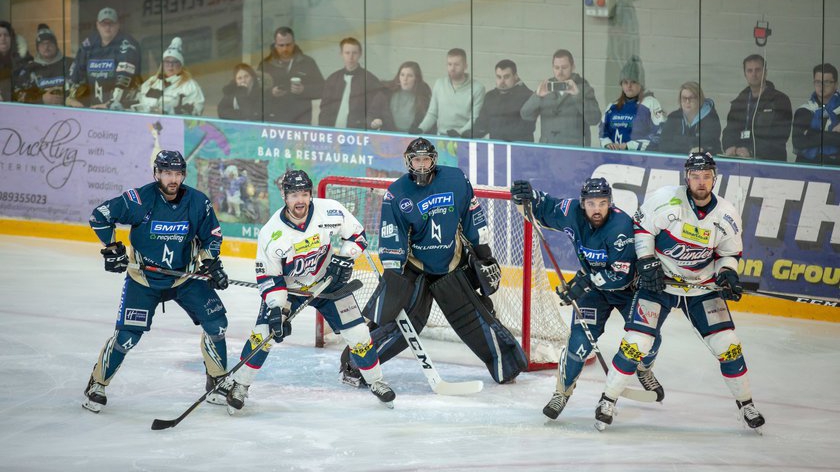 Image Credit: © Mel Dickens
​​​​​​The Smith Recycling Milton Keynes Lightning ended their ten-game losing streak with a hard-fought and dramatic 4-3 victory over the Dundee Stars.
The Lightning and Stars needed a full 65 minutes and penalty shootouts to decide the victor, with the home side being rewarded for one of their strongest periods this season.
Tim Wallace's team came out of the gate firing, playing with fierce aggression that saw them get off a few dangerous shots in the first period, looking the more likely to open the scoring.
But soon the Stars began to take control of the game, with former Lightning forward Jordan Cownie opening the scoring with just over two minutes left in the period.
The home side, buoyed on by the electric home atmosphere, refused to lay down and came back out in the second period roaring.
The Lightning registered three unanswered goals in the second period, the first coming from defenceman Martin Mazanec.
The big Czech blueliner carried the puck neatly through the neutral zone and into the Stars' defensive area, seeing an initial shot blocked before gathering it again and slotting it beyond Pontus Sjogren.
The Lightning continued to play an aggressive style, regaining possession as quickly as they initially lost it.
Such a style helped the Lightning to take the lead when Canadian centre Michael Fine stole the puck back before sending a neat pass across ice to Wallace, who took control of the puck and sent it beyond the reach of Sjogren.
The Lightning's third goal came courtesy of a Radek Meidl backhand, with the Czech forward collecting the puck off a Stars player's mistake before turning it beyond the Swedish goaltender.
Things became tense during the third period, with the Stars taking their opportunities in front of the Lightning net, with Charles Corcoran pulling the score within one after five minutes.
Cownie once again struck a disappointing blow against his former club, with the 24-year-old netting his second to bring the Stars level with just eight minutes left to go.
The Stars out-shot the Lightning 46-31 in regulation time, but the home side held on tightly with goaltender Patrick Killeen making some superb glove saves throughout the game.
Overtime saw the Lightning have a power-play opportunity that threatened the Stars goaltender, but the final buzzer went and the game was decided in the shootout.
It took three full sets of penalties before the first goal was scored, with Robbie Baillargeon slotting is shot through the legs of Sjogren.
Cownie, who had been a thorn in the side of the Lightning all game, saw his following shot saved by Killeen, allowing Andreas Valdix to go ahead and give the home side the victory.
The 4-3 SO win ended a run of defeats for the Lightning that stretched back to early January, with the Stars once again being the team on the losing end.