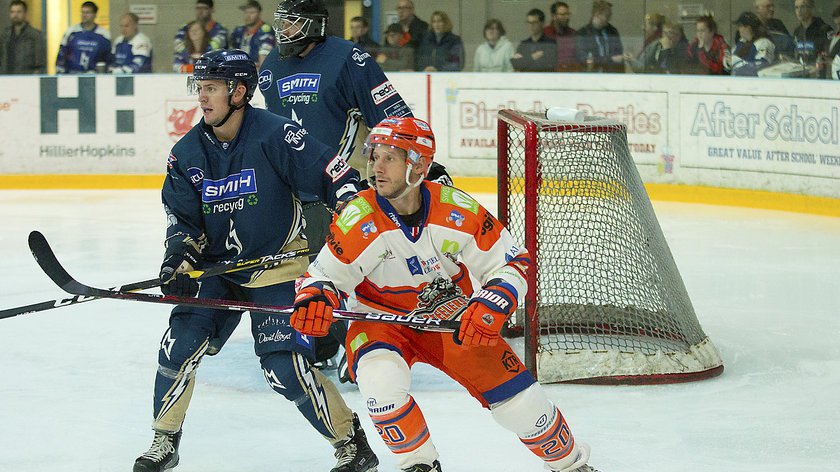 Image Credit: © Tony Sargent
​​​​​​​The Smith Recycling Milton Keynes Lightning face the Sheffield Steelers in a home-away series this weekend, hoping to end a four-game losing streak.
It is battle of the basement this weekend, with the bottom-ranked Lightning coming up against the second-bottom ranked Steelers – who themselves are on a five-game losing stretch, slipping out of the playoff picture.
A fiery, heated game could play out between the two sides with how much is at stake, with the Lightning desperate to pull themselves back into reach of the playoffs after a tough Christmas/New Year period.
Player-coach Tim Wallace leads the team with 35 points this season, already eclipsing his 30-point campaign last year with tonight's visitors.
With 12 goals so far, Wallace sits joint-second in goals for the team, alongside speedy Latvian winger Georgs Golovkov, behind Robbie Baillargeon.
All three players will need to be at the top of their game in order to cause to Steelers' defence problems, with special teams potentially being a vital part of tonight's game.
The Steelers rank sixth in both the power-play (20.5%) and penalty kill (80.7%) with the Lightning improving their own rankings to eighth (18.2%) and tenth (78%) respectively.
The big headline earlier this week was the Steelers' releasing of three players; goaltender Matt Climie and forwards Justin Buzzeo and Stefan Della Rovere.
Buzzeo and Della Rovere were surprises for some fans, with Buzzeo in particular, having 24 points in 33 games.
To replace the departed players the Steelers have brought in Tom Zanoski, who is set to make his debut for the team against the Lightning.
Tonight's game could also see the return of a familiar face to Lightning fans, with Eric Neiley still battling injury since departing the team in November.
Neiley could be in line to return against his former club and could face a frosty reception from the home fans.
Given recent results and the production of their players, both teams appear fairly close on paper.
Tonight's game should play out to be a close affair, with the Lightning players needing a huge boost from the home crowd to help them battle through and claim valuable two points before heading up to Sheffield tomorrow to do it all again in front of the Steelers fans.
The two teams get things underway at 7pm tonight at Planet Ice MK Arena.