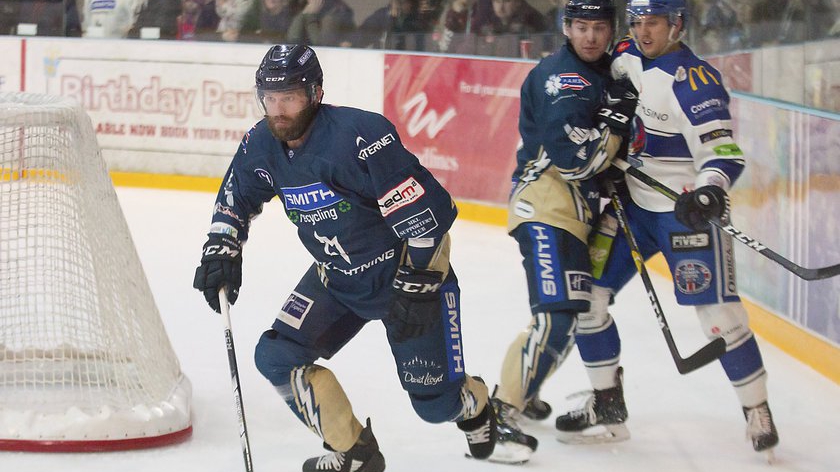 Image Credit: © Tony Sargent
The Smith Recycling Milton Keynes Lightning have shed more light on the circumstances surrounded the departure of defenceman Ryan Lannon last week.
The 36-year-old veteran left the club last week, joining Vaasan Sport in the Finnish Liiga - the top league in the country.
Lannon's departure surprised many at the time, with the former eighth-round selection of the Pittsburgh Penguins in the 2002 NHL Entry Draft being a mainstay on the Lightning's defence, making 35 regular season appearances as well as having a brief stint as the club's joint player-coach alongside Tim Wallace.
Few details were given in the Lightning's original release, but the club has now made an official announcement to clarify the situation surrounding the American's departure.
The official announcement reads: "Ryan approached us a short while ago as he had been offered a lucrative opportunity in Finland."
"While appreciating the offer and Ryan's interest, the club asked him to see out the remainder of his contract in the professional interests of the Lightning and of the University of Buckingham, who funded the MBA he was studying for."
"At this stage, the club was comfortable in the knowledge that Ryan's contract remained valid and that he would remain at MK Lightning."
"We were aware that Ryan's interest in moving had resurfaced recently, but changes to his player registration were processed without our knowledge or consent, while his contract with MK Lightning remained in place, enabling him to sign for a new club without notice nor compensation."
"Everything possible was done to retain Ryan (within contractual, legal and ethical bounds) and the Smith Recycling Milton Keynes Lightning remain of the view that our contract with Ryan Lannon is legally binding; therefore we are in the process of taking legal advice."
"Whilst we would genuinely like to be more transparent about the background of this move with our sponsors and fans, we hope you will appreciate that we cannot do this while we seek advice on the matter."
"In the meantime, your support for the team in the closing stages of this season is needed more than ever; the atmosphere at Planet Ice helps fire on the team - so we hope to see you again this Saturday when we face the Manchester Storm."