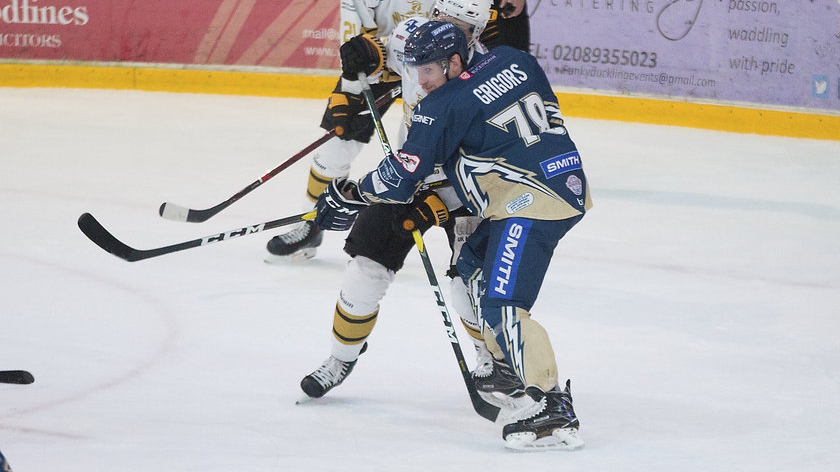 Image Credit: © Tony Sargent
The Smith Recycling Milton Keynes Lightning today confirmed that Rihards Grigors has been released by the team.
Grigors was brought to the Lightning to act as injury cover by then-head coach Doug McKay, with the team short-benched through injuries and visa troubles, and was never made a full-time member of the team.
The 26-year-old Latvian brought with him a wealth of experience across a number of leagues in Europe and had played 72 league games for the Edinburgh Capitals before they left the Elite League.
Since arriving, Grigors has made 17 regular season appearances in the Elite League for the team – registering one assist.
He also featured in another four games for the team in the EIHL Cup, again registering one assist.
The announcement that Grigors is leaving the team should come as no surprise with the recent arrival of Croatian blue-liner Ivan Sijan.
Prior to Sijan's arrival, it was also revealed the Grigors had been commuting from his home in Scotland in order to play for the team – not an ideal situation for him or his very young family.
Ryan Lannon, who was recently appointed player-coach for the team, thanked Grigors for his time with the club.
He commented: "He has played his best hockey of the year this last few games. The decision to release him has more to do with logistics than his performance."
He concluded: "He is a hard-working player that was liked and respected by all his teammates and he'll be on a shortlist of players to call on as needed over a long season."
With the departure of Grigors, the Lightning now have fourteen imports on the roster – though it is likely that one more will join the club in the near future.
The team faces the Manchester Storm at Planet Ice MK Arena tonight with Sijan, Grigors' immediate replacement, set to make his home debut after arriving mid-week.