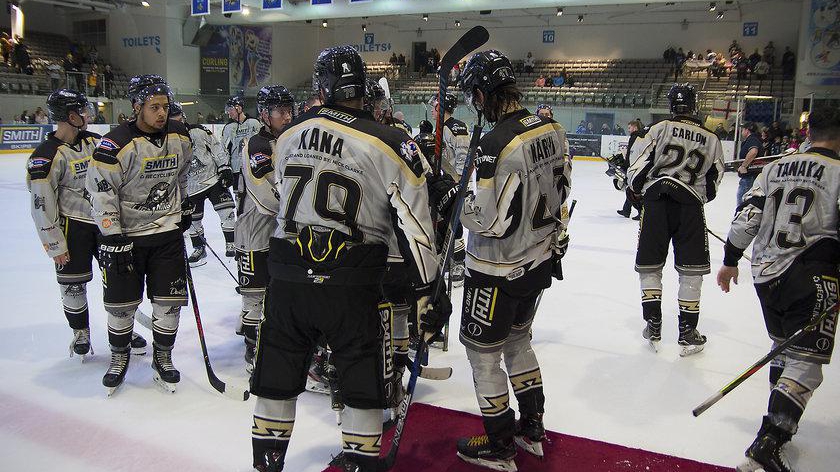 Image Credit: © Tony Sargent
The Smith Recycling Milton Keynes Lightning have received a huge injury boost ahead of tonight's derby game against the Peterborough Phantoms.
The Lightning (4-11-2) take on old rivals the Phantoms (10-7-1) at Planet Ice MK Arena and will have some familiar faces back on the ice after long spells on the sidelines.
Team captain Russ Cowley, alternate captain Grant McPherson and goaltender Jordan Lawday are all expected to return to the lineup against the club's biggest rivals.
Having the remaining two of the team's three leaders back on the ice, with fellow alternate captain James Griffin returning last weekend, will be a huge boost for Lewis Clifford's side, who are desperately looking for ways to improve on their slow start.
Cowley and McPherson's return to the ice gives the team's offence much more depth, with Cowley (2G, 7A) forming a strong partnership with Kana and Cale Tanaka before being sidelined.
McPherson will provide physicality and a strong leadership voice on the ice, with the influential Scottish forward desperate to get back on the ice after being limited to just one appearance thus far.
Facing a Phantoms side in good form will be a tough test for the home side, but recent signing Liam Stewart will continue to provide them with a deadly offensive threat in front of the net.
Stewart has notched six goals in his four appearances for the Lightning and now sits just three goals behind Tomas Kana, who has taken 17 games to reach that mark.
If Stewart continues to score at this astonishing pace, he could reach 25 goals by the time he reaches 17 appearances himself.
The Lightning defence will need to be at the top of their game in this one, with three Phantoms players already reaching double-digit goals and five players already sitting on 20+ total points, including former Lightning man Glenn Billing (9G, 11A).
The local rivalry has received plenty of attention in the lead-up to tonight's game and it's one that the Lightning will be hoping to pull out of the bag with a stronger-looking line-up at their disposal.
The Lightning will, however, be without promising young forward Caly Robertson, who was released by the club earlier this week.
The two teams get this derby game underway at 7pm tonight at Planet Ice MK arena.