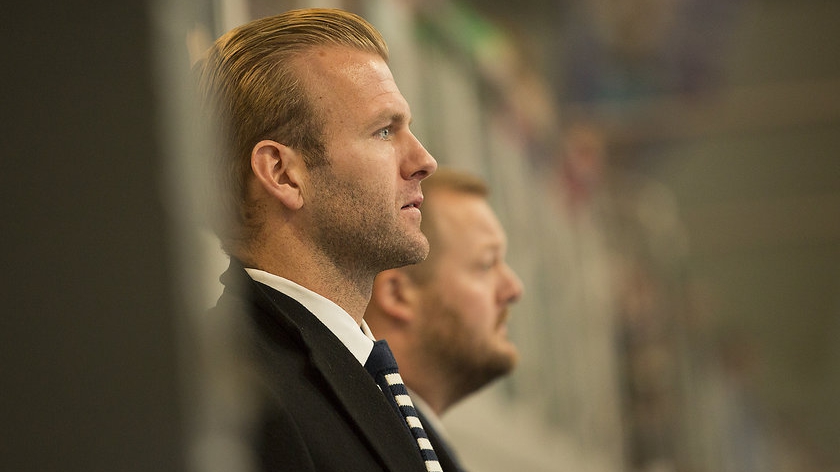 Image Credit: © Chris Dickens
The Smith Recycling Milton Keynes Lightning have announced a Q&A session for fans in the wake of head coach Doug McKay's departure from the club.
The session, due to take place next Friday (23rd November), will give an update on the club's coaching situation after the Canadian stepped down, citing personal reasons for his decision.
The team's first game without McKay saw fan-favourite Lewis Clifford, who spent many years as the team's assistant in the EPIHL era, act as the interim bench coach alongside Ryan Lannon.
Lannon, who spent four years coaching before returning to play last summer, has taken over coaching duties alongside long-time friend and former teammate Tim Wallace.
It is expected that the team will search for a long-term replacement for McKay, but there is a real possibility that Lannon and Wallace continue to act as coaches for the team if results begin to improve under their guidance.
At next Friday's Q&A session, which will start at 7:30pm and will be held in the Tag Taylor Bar & Grill at Planet Ice MK Arena, will give fans a clearer understanding on the team's plans regarding their coaching situation and could answer many of the questions that have been raised since McKay stepped down.
There will be an online update from the team to go along with the session and fans are being invited to send in questions even if they are unable to attend the event.
The last time the team held an event at Tag Taylor B&G, the room was packed to the brim and it is advised that fans hoping to attend arrive with plenty of time.
In the meantime, the Lightning play two league games this weekend – a road trip to Glasgow to play the Clan for the second time this week before they return to Milton Keynes for their home tilt against local rivals the Coventry Blaze.