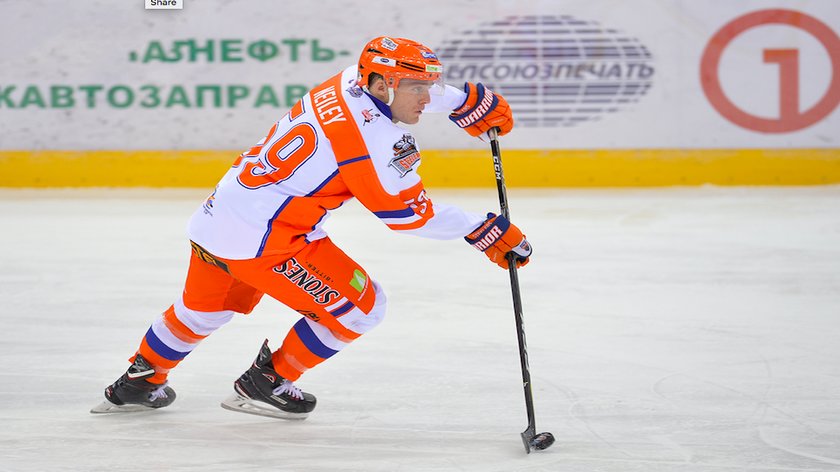 Image Credit: Sheffield Steelers Ice Hockey Club
Milton Keynes Lightning owner Graham Moody believes the recent addition of Eric Neiley is an exciting signing for the club.
The 26-year-old American forward joined the Lightning this summer after originally retiring from the sport to take up a full-time role outside of hockey.
He made his initial decision to retire after posting an impressive 21 points (10 goals, 11 assists) in a 25-game regular season spell with the Sheffield Steelers.
He also added a further three points (two goals, one assist) in four playoff games, but felt it was the right time to hang up his skates and take a full-time opportunity away from hockey back in the United States.
However, discontented with a full-time job away from hockey, Neiley decided to return to the UK and it is the Lightning that will benefit from his surprising U-turn.
Speaking at the team's media day, Mr Moody explained how the opportunity to sign Neiley came about.
He said: "Eric Neiley was a surprise, it came very short notice, very very quickly."
"Obviously Eric had his own decisions to make during the summer with regards to his own career and I think pretty quickly he realised that he wasn't ready to stop playing hockey yet and he wanted to get back into it."
"I know he spoke to Doug and pretty quickly they managed to agree a deal, I think there were a couple of other clubs trying to get him as well."
"I know he's played with Tim Wallace before as well in Sheffield, so that's good for the club."
"Obviously we're going through the visa issues with Doug, but Eric went for his appointment on Tuesday, got his visa by the Wednesday and he flew out on Thursday so he will be here today (Friday 24th August)."
He concluded: "It's an exciting signing for the club."
Tim Wallace, another American forward that joined the Lightning this summer and briefly a teammate of Neiley with the Steelers last season, is also looking forward to teaming up with him once again.
He said: "We talked throughout the summer and he told me he was sick of the real world and I'm glad we got him to come here to Milton Keynes, he's a great player and a great guy so it should be fun for the fans."