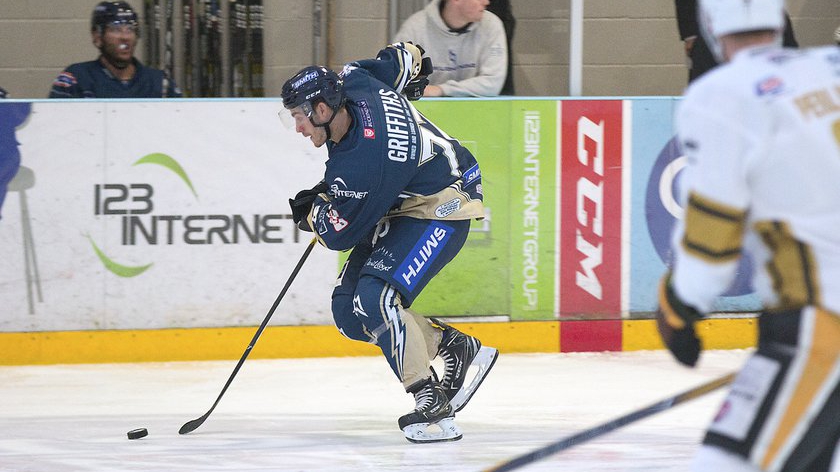 Image Credit: © Tony Sargent
The Smith Recycling Milton Keynes Lightning beat league leaders Nottingham Panthers 5-1 in their most recent league fixture (on Sunday 7th October).
Welshman Owen Griffiths was part of the line-up that secured the impressive win, having a breakaway chance to open the scoring early in the first period.
It was the 22-year-old's seventh appearance in Lightning colours, with the former Peterborough Phantoms forward having missed all of the team's cup fixtures due to an early-season injury.
After the 5-1 home win, Griffiths commented about his injury and being a regular feature in the Lightning line-up since returning.
He said: "As a player, there's nothing worse than watching hockey [from the sidelines]. You just want to try and help out and not be a hindrance."
"You feel like you are in the way and just want to try your best and get back and get out there."
"Now that it's come about it's really good. It's nice to get some ice and make sure everything's okay and, now that we've got numbers, it's even better so it's good."
Since returning to the line-up, Griffiths has seen the team pick up morale-boosting wins against the Dundee Stars and Panthers in front of the home crowd.
Two players, Nelson Armstrong and James Hounsome, made their home debuts in the team's most recent game at home.
Griffiths, speaking of Armstrong, was thoroughly impressed with the Canadian's first outing as a Lightning player.
He commented: "What a performance. He came in and landed this morning [8am Sunday] and, with the jet lag and everything else he's got going on, moving and stuff, it's a lot, especially on the mental side of it."
"For him to come and perform today, he doesn't even know half the guys yet, and he's already stepping up when there's a bad hit."
"There's nothing more that you could ask of him, especially on a debut, so I'm looking forward to playing alongside him."
Hounsome, 19, also made an impact in front of the home crowd, dropping the gloves late in the third period.
The youngster had been training with the team for a little while before making his debut against the Belfast Giants on Friday (5th October).
Griffiths commented on his new teammate: "He trained with us last week and then all of this week, so he came in. They had a bit of trouble with his registration but they got it through and thankfully he could come and join us in the line-up."
"I think it was a good trip, it was his first game, his debut and what a place to play in Belfast."
"It's such a good facility, so I think that kicked up the nerves a little bit, but it's just another hockey game, that's the way you've got to think about it and just keep going and doing your thing and play your role and help the team."
The Lightning's next game is this Sunday (14th October) at Planet Ice MK Arena, where they will face-off against Griffiths' former team the Cardiff Devils.