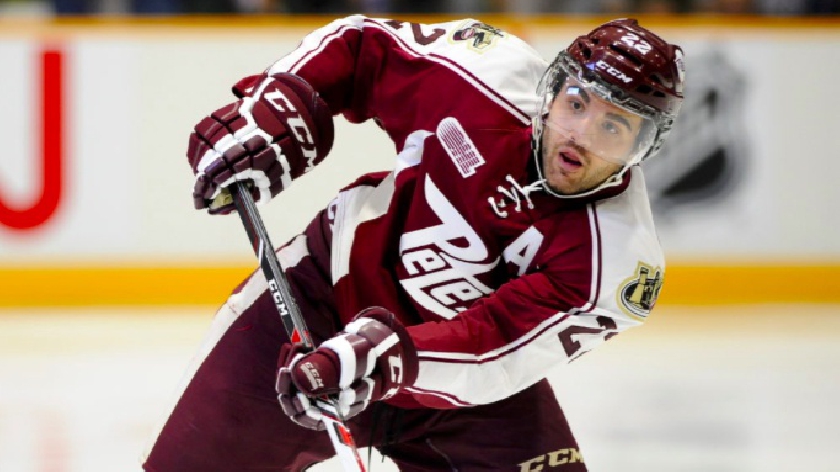 The Smith Recycling Milton Keynes Lightning's summer signing Nelson Armstrong is due to arrive in the country today after a long wait for his visa.
The 24-year-old Canadian defenceman has been stuck in his home country waiting to receive his passport, having had his visa approved two weeks ago.
But a post on the team's official social media accounts revealed that Armstrong was at the airport waiting for his flight to the UK.
Armstrong will be a welcome sight for Lightning fans, with the team having waited a long time to finally bring him into the team.
The former Peterborough Petes player will bring with him some solid experience at the professional level, having played 51 games in the ECHL over the past two seasons.
Last season Armstrong scored 16 points (four goals, 12 assists) in 39 regular season games – helping to lead the Florida Everblades to the Brabham Cup.
The Brabham Cup is awarded to the regular season champions in the ECHL, with the Everblades reaching the playoffs with an impressive 112 points.
The 6-foot-1, 205lbs blueliner featured twice in a playoff run that saw the Everblades lose in a seven-game series against the Colorado Eagles during the Kelly Cup finals, coming close to winning two titles in one season.
It is unlikely that Armstrong will feature in the Lightning's home game against the Nottingham Panthers tonight (Sunday 7th October).
He could, however, be seen on the ice as early as next Sunday when the team welcomes the Cardiff Devils to Planet Ice MK Arena in challenge cup action.