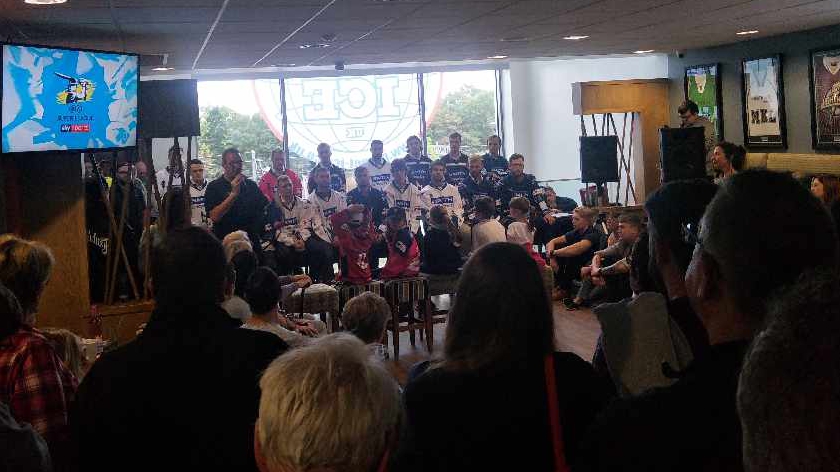 Fans of Milton Keynes Lightning were out in force tonight (Monday 27th August) as the team hosted their annual Meet The Players evening.
The packed out Tag Taylor Bar at MK Arena saw fans of all ages gather to meet the players that will take to the ice in the 2018/19 Elite League season.
After all present players were unveiled, wearing various jerseys that will be seen across the new season, fans had the opportunity to participate in a Q&A section.
Questions ranged from serious ice hockey discussions to more lighthearted topics such as who will be the captain this season, though the answer to this particular question is still unknown.
Fans appeared to be in high spirits, with the players mingling amongst the crowd after the Q&A's were finished.
Owner Graham Moody was in attendance and spoke about the evening.
He commented: "It's been a great turnout, seeing the fans come out as usual and get behind the team and support the team and show the team what they mean to them."
"[I was] speaking to the players just before they came out, saying the kind of people that come to these events are the people that will be going to Belfast with them and to Scotland with them."
"It's a part of their lives and they will be a part of their lives."
When Mr Moody was asked how important events that allow fans to directly interact with the team were, he said: "Crucial. It's great for the fans to get to know the players and get to know who they are, get to know them personally."
"When you've got new people coming to the country it's really important for them to mix and be known."
He concluded: "They will create friendships. Players last year still speak to some of the fans and still have a relationship with the fans so it's really good."