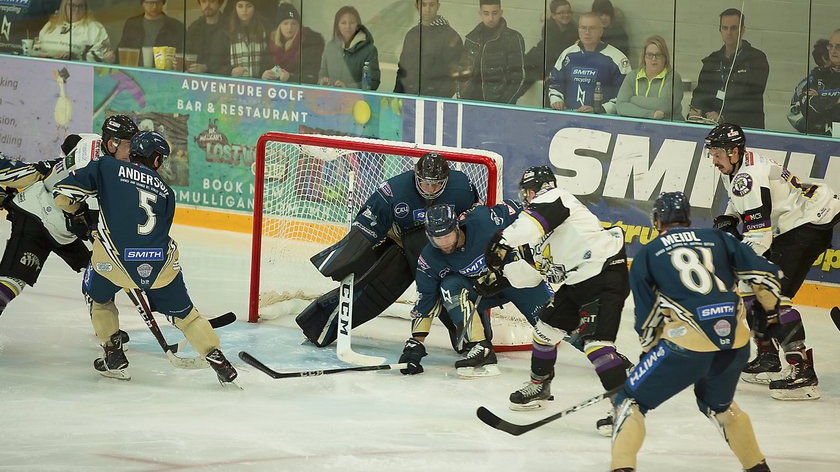 Image Credit: © Mel Dickens
​​​​​​​It's battle of the basement as the Smith Recycling Milton Keynes Lightning welcome the Manchester Storm to town tonight.
The last-placed Lightning (12-32-4) face the 10th-placed Storm (21-23-5) for the first time since earning a 5-2 victory over the visitors on December 1st.
The playoff race in the EIHL is so tight that the Storm could still make the post-season with a few positive results, but will be in for a tough night in Milton Keynes.
Special teams could have a big impact on the game's outcome, with the Lightning having higher-performing penalty kill and power-play units than the Storm.
The Storm ranked 10th in both special teams, with 15.1% (PP) and 78.3% (PK) success rates – compared to the Lightning's 17% and 79.5% respectively.
The home side will once again be relying on their big four forwards to produce scoring chances against the Storm, with player-coach Tim Wallace still leading the way.
Wallace has 45 points (16G-29A) in 48 league games with the Lightning, followed by Andreas Valdix (8G-31A), Robbie Baillargeon (22G-12A) and Georgs Golovkovs (13G-17A) as the team's top producers on offence.
Ahead of the game against Manchester, Wallace called on his players to believe in their abilities and play a responsible game to steal two points away from the visitors.
The veteran American forward and coach of the Lightning told the team's official website: "It's up to the guys in the room to believe in themselves - and do what it takes to get the win."
He added: "It's always a tough, physical game when we face Manchester but if we can play a simple, responsible game we have a great opportunity for two points."
The Lightning might not be aiming for the playoffs anymore, but it is clear that Wallace isn't willing to give up on getting the best possible results by the end of the season – a true credit to his character as a player and a coach.
If the Lightning can get after the puck aggressively early on, it could make life difficult for the visiting Storm and could see the home side claim points in front of the home fans – moving on from the disappointing mid-week loss to the Guildford Flames.
The Lightning and the Storm get tonight's game underway at 7 pm at Planet Ice MK Arena.