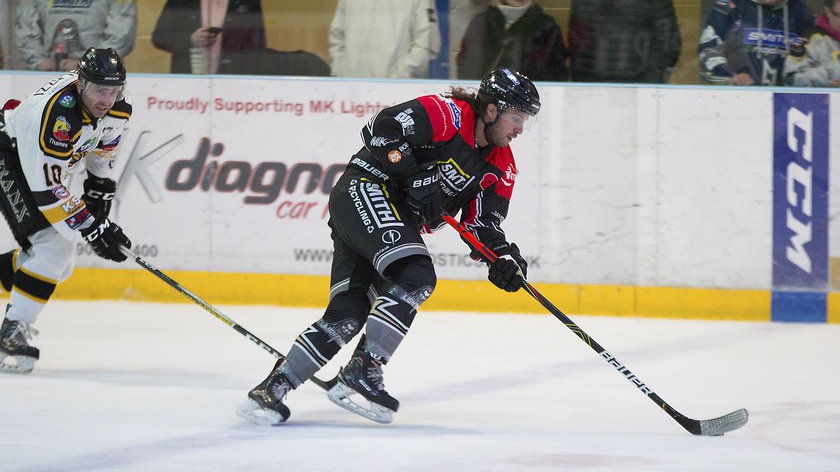 Image Credit: Tony Sargent
The All In Black Milton Keynes Lightning have bolstered their roster with the return of dynamic forward Liam Stewart.
Stewart had a hugely successful debut season for the club in 2019/20, demonstrating his Elite League-level talent to become more than a point-per-game player in the NIHL National.
He was signed up to play last season but was unable to due to the regular season being cancelled as a result of the ongoing Coronavirus pandemic
Now, he'll be back at Planet Ice Milton Keynes Arena to help the team compete for silverware.
Speaking of Stewart's return, head coach Lewis Clifford commented: "There's a good reason why there are more shirts sold with Stewy's name on than anyone else on the team, and that is because every Saturday and Sunday night he does things that get people out of their seats."
"He is a dynamic, skilled player that catches the eye, but on the flip side he is a relentless worker who grinds, hustles, blocks shots and grafts every time he gets on the ice."
He continued: "Off the ice, Stewy is hugely popular amongst his team mates, his relaxed nature makes him easy to be around and he doesn't seem to take life too seriously."
"There are two sides to Stewy, the absolute competitor who wants to go on the ice and win every night who is willing to do whatever it takes, and the guy I look at in the locker room before some games who is so relaxed and confident that I think I might have to get a medic in to check his pulse!"
Clifford concluded: "Stewy really is one of the premium players in this league, we are lucky to have him here in a Lightning jersey, and I am really looking forward to him returning from New Zealand ready to excite the MK faithful for another campaign.
Stewart himself commented: "Sorry for the little Instagram tease but I was always coming back to MK!"
"I'm excited to get back into it with the boys and get back to the UK. Hopefully we can complete a full year."