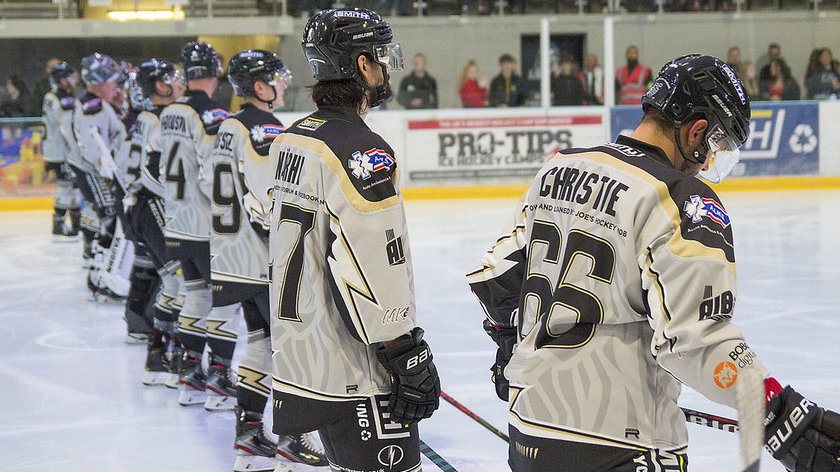 Image Credit: © Tony Sargent
The Smith Recycling Milton Keynes Lightning earned a convincing 8-4 victory over the Leeds Chiefs this past Saturday.
The game was a roller coaster of emotions on both sides of the ice but, ultimately, saw the Milton Keynes club walk away with their first two points of the regular season.
Speaking after the game, Clifford commented: "Whatever way it came, whether it's a 1-0 win or 8-4 that's probably sent everyone home excited, I don't really care."
"We just needed to win tonight, I told the guys as much in the week and I told them again tonight that we've got no excuse."
He added: "We've had a little bit of an excuse that we've probably run out of now about being a new team and not having much practice together, but the team we played tonight are exactly the same so we had no excuse and had to find a way to win and luckily we did."
The game was truly end-to-end for long periods, seeing the Lightning take an early lead, drop to a 2-1 deficit before clawing back to give themselves a two-goal cushion that was then levelled by the visitors.
With the home side eventually pulling off an 8-4 victory, Clifford commented on his team's performance.
He said: "Obviously a turning point was when their goalie got thrown out of the game, which was the right call at the time, but we dug ourselves a hole by keep on going and sitting in the penalty box."
"Of the four goals they scored, three of them were on the power-play. You don't need to be a rocket scientist to figure out that taking loads of penalties in the game is not a good idea."
"We were killing [penalties] quite well to start with but then it just wears the guys down because they're constantly playing on the PK."
"We came back strong, I was really encouraged by the way the guys just kept going but that's no less than what I expect."
The game saw the return of fan-favourite defenceman Lewis Christie, who put in a solid performance after a year out of the game.
Speaking of Christie's return, Clifford commented: "He did get a good reaction from the crowd and that's great to see because he deserves that, he's been here a long time and he's never given anything less than 100% for this club."
"He does what he does, I know exactly what I'm getting with him. He's nowhere near match fit yet but he was solid out there."
He concluded: "He just does the basics right and that's what he flourishes at, just grinding, playing solid defence and chipping pucks out and just being a really solid defensive defenceman."