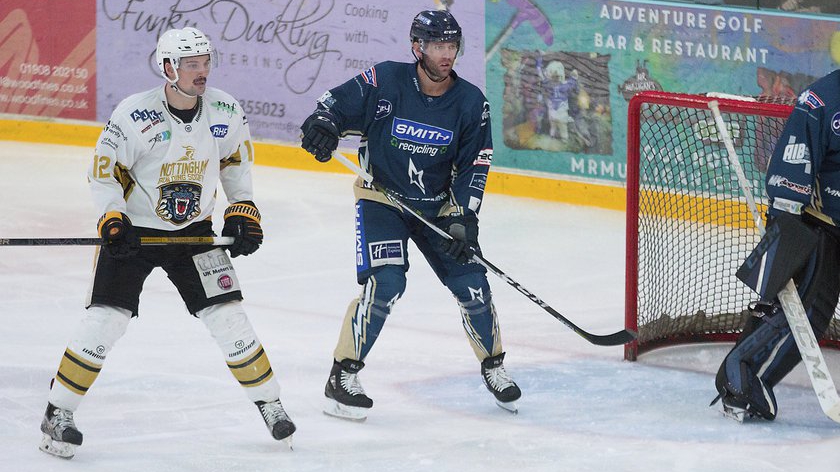 Image Credit: © Tony Sargent
​​​​​​​The Smith Recycling Milton Keynes Lightning lost 3-1 to the Nottingham Panthers last night, but the game was far closer than the score-line suggests.
Despite not claiming two points, and seeing their winning stretch at home ended, the Lightning players will head to Wales today knowing they did everything they could to keep things close last night.
One extra positive for the home side was the return of David Norris and Ryan Lannon, who have both been sidelined with injuries.
And newly appointed player-coach Lannon certainly felt that the home side could have taken something out of the game and was pleased with the team's compete level throughout the game.
Speaking after the game, Lannon said: "We had a pretty good effort, I thought, as a group."
"A strong sixty-minute performance, a couple breakdowns here and there that cost us."
"Their goalie played really well and made some timely saves for him."
"Overall, I'm pleased with the effort. Would've liked to get two points but we're getting better as a team every day."
"Individually and as a group, I thought the effort was there. We still want to win but I thought we played the right way against one of the top teams in the league and held our own."
Lannon played his first game in over a month for the Lightning last night and he seemed pleased to finally be back out there with the rest of his team.
He commented: "It was nice to be back. Probably a few minutes, maybe even the first period, adjusting to the speed after a month or so off."
"Felt pretty good, my conditioning was as good as I could've expected it to be."
"I didn't love my game in the first period, their second goal was my responsibility defensively, I got beat off the wall."
"But, I got better as the game went on and hopefully I'll be back to being solid defensively and it's got to start tomorrow [against Cardiff]."
The Lightning travel to Ice Arena Wales later today to face the Cardiff Devils, before a mid-week trip to Nottingham.
Planet Ice MK Arena next hosts a Lightning home game next Saturday when the Manchester Storm come to town.