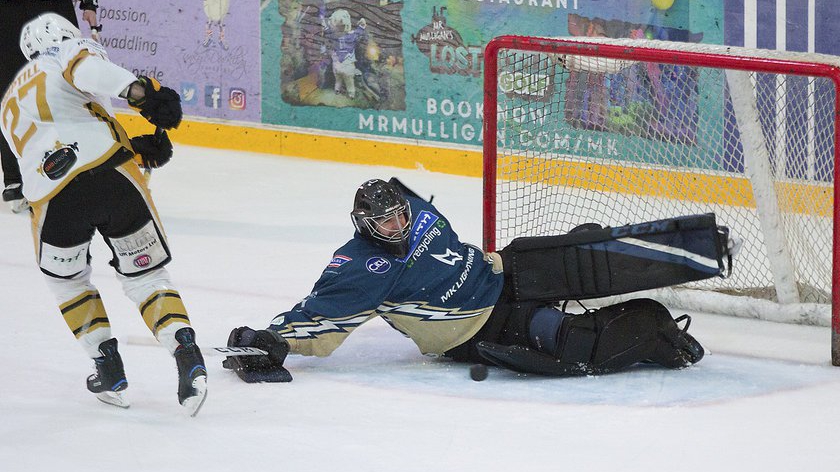 Image Credit: © Tony Sargent
​​​​​​​The Smith Recycling Milton Keynes Lightning earned a dramatic 4-3 shootout victory over the Nottingham Panthers last night, thanks to some heroic saves by goaltender Patrick Killeen.
The 6-foot-4 Canadian stood tall during the victory, pulling off miraculous saves at a number of crucial times to keep the home side in it.
With neither team extending leads beyond a goal, a sturdy performance from Killeen helped to see Lightning earn back-to-back home victories – having picked up a 4-3 victory over the Manchester Storm last weekend.
Speaking after last night's game, Killeen commented: "I think that's a very good game for us. The way we played tonight was a little different than we've been playing lately."
"I think we saw a lot more confidence, a lot more battle level, more compete level. Our work ethic has never been a problem but tonight we kind of had that extra gear."
"A lot of credit to the guys, especially after a long bus trip last night on the way home from Fife."
The former sixth-round (180th overall) selection of the Pittsburgh Penguins in 2008 had arguably his biggest saves of the game during the deciding shootout, shutting the door on four different Panthers attempts.
Speaking of the shootout and the huge saves he pulled off just before player-coach Tim Wallace scored the decider, Killeen said: "Shootouts, I love them, they're so much fun to be a part of, especially when you're winning them."
He added: "I mean, really the guy just made a good move and I just got desperate. It was a good save, a little bit lucky and then Wally [Tim Wallace] goes down there and scores two highlight-reel goals and pull us up."
"That's how it works, it's a big win."
When Wallace's goal hit the back of the net, the crowd at Planet Ice MK Arena erupted, with rapturous cheering and applause complimenting the excitement from the players, who all leapt off the bench to surround Wallace after securing victory.
Killeen commented on the atmosphere throughout the game, saying: "It was outstanding. I think we have probably some of the best fans that I've ever seen, especially in Europe."
"They support us when things aren't going our way and then when things are going our way they're still there, being as loud as they can be."
He concluded: "I still get chills stepping on to the ice here and after a big win like this it's always something special."