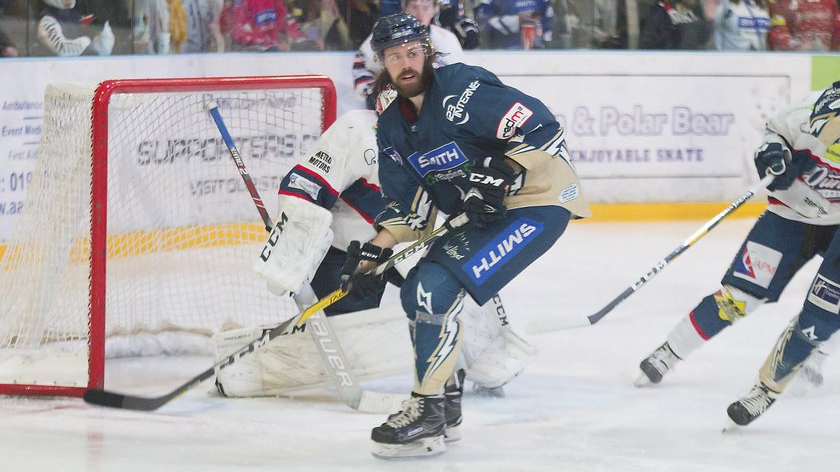 Image Credit: © Tony Sargent
​​​​​​​The Smith Recycling Milton Keynes Lightning signed Croatian defenceman Ivan Sijan around three weeks ago with the big blue-liner settling in quickly.
The 6-foot-3, 198lbs right-hander joined the team just before experience the best form of the season, with the Lightning holding a 3-2-0 record in Sijan's first five games.
He has already chipped in two assists and holds a +2 +/- rating after leaving Medvescak Zagreb, who announced their bankruptcy shortly after his departure.
With the Lightning finally being able to play three full pairs of defenceman, player-coach Ryan Lannon spoke of his first signing's impact since joining the team in Nottingham.
Speaking after last weekend's 3-0 victory over the Dundee Stars, Lannon commented: "He stepped right in after a long day of travel. He met us up in [Nottingham], had a solid game that night and he's performed well all along."
"He's a big guy but he likes to skate. He'll chip the puck in and go after his dumps. I've been his [defensive] partner the last couple of games and he communicates, he talks, and he makes it easy to play with."
"In the room, off the ice, he's a very likeable guy. Sometimes it can be tough walking into a room of fifteen strangers and if the personalities clash that can make for an interesting transition."
"He's only been here for a month but he feels he's a part of the team and it feels like he's been here all along."
At a Q&A session held to announce the promotion of Lannon and fellow player-coach Tim Wallace, the pair stated that they would be looking to add a few new players to their roster.
When asked how the process of bringing in new players were going, Lannon commented: "It's coming along. Tim has been talking with ownership about that."
"We're looking at, strategically, if we're going to bring in a [defenceman] and a forward, or two forwards."
"We've been fortunate, we haven't had any major injuries, and we've been rolling lines. [We're] just a little bit light on the bench, we could probably use another forward or two."
He concluded: "We've got a stretch coming up of a lot of games in not a lot of days so if not before that stretch, or before the holidays, then I think right after the New Year we'll have a couple extra players in here just to kind of fill out those spaces and make the best team possible moving forward for the last part of the season."
The Lightning's next home game comes this Thursday when the team welcomes the Cardiff Devils to Planet Ice MK Arena, with the puck set to drop at 7:30pm.