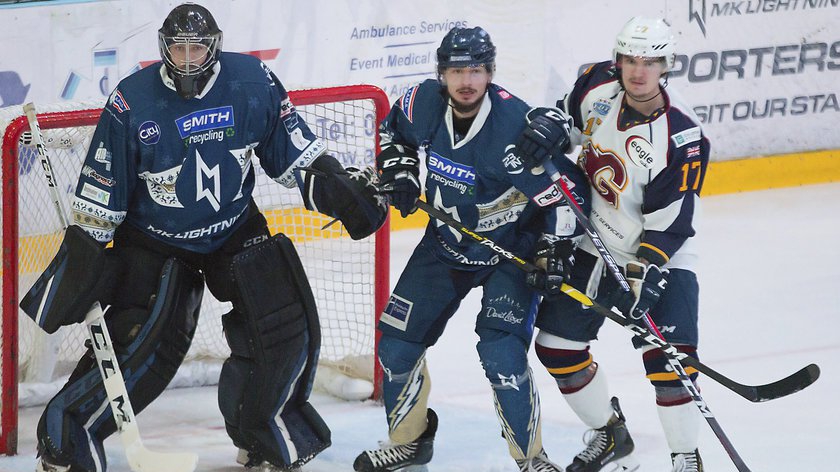 Martin Mazanec (centre) is out with a wrist injury | Image Credit: © Tony Sargent
​​​​​​​The Smith Recycling Milton Keynes Lightning faced the Sheffield Steelers last night missing three players from their roster.
Injuries and illnesses are a natural part of life, particularly in hockey, and the Lightning have not been able to avoid losing players at various times this season.
Canadian forward David Norris has been sidelined since early December while big Czech defenceman Martin Mazanec had missed last Sunday's game against Glasgow.
Both players were absent against the Steelers last night, with both being spotted behind the bench late in the game.
But the team was also without American forward Trevor Morbeck, with player-coach Tim Wallace providing an update on him and the other two players after the difficult 4-1 loss.
Speaking of Morbeck, Wallace explained: "Morbeck's [got the] flu, hopefully he can tough it up and be there tomorrow for us."
Having Morbeck back in the line-up will help the Lightning, who are in need of extra depth, but it appears the other two guys are still a while away from returning.
Wallace added: "But the other guys, [it'll be] a week or two out, their injuries are more severe than we thought."
He concluded: "We'll make do with what we have and keep trying to get some wins for these fans here."