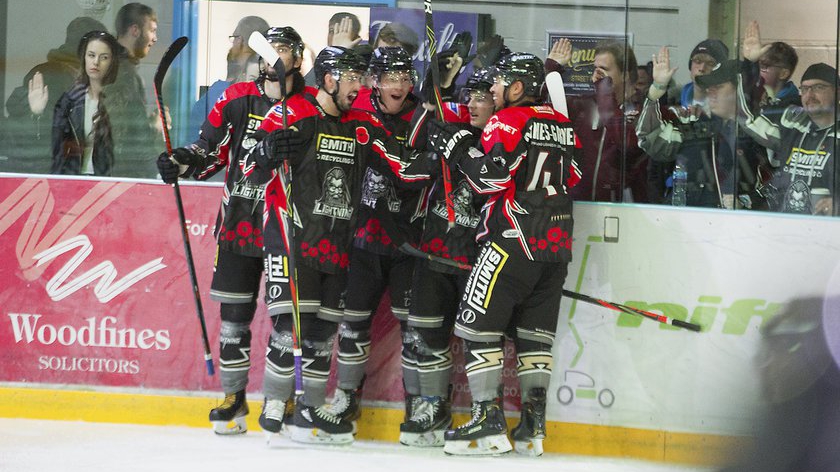 Image Credit: © Tony Sargent
The Smith Recycling Milton Keynes Lightning put on a show for their fans and special guests, running out 7-2 winners against the visiting Bracknell Bees.
The Lightning commemorated Remembrance Weekend with members of the British Royal Legion, including a pre-game ceremony and a two-minute silence before putting on the performance of the season.
The home side got off to a promising start, testing former Lightning goaltender Adam Goss a number of times to give hopes of a positive result.
But things appeared to be heading towards much of the same for the Lightning when the Bees struck just under five minutes into the game thanks to Robin Kovar.
Stand-in goaltender Dean Skinns had made a number of crucial saves just prior to the goal, with the Lightning players showing visible frustration when the puck hit the twine.
The game became more open-ended, with both sides taking chances at either end of the ice, but it was the Lightning that struck next, with Hallden Barnes-Garner opening the scoring for the home side on the power-play.
The Lightning came into the second period buzzing and took their chances when they fell to them, with Lewis Ferguson getting a power-play goal of his own just over two minutes into the period.
Just under four minutes later and the Lightning fans were treated to one of the best goals witnessed this season, with newly arrived Liam Stewart taking the puck up through the ice before shooting top-shelf for a breakaway goal on his debut.
Stewart, playing on the top line alongside Cale Tanaka and Tomas Kana, proved to be a threat virtually every time he touched the puck and the rapturous applause from the crowd showed just how important and appreciated his arrival was.
Young forward Logan Prince then added a fourth goal for the Lightning with just over six minutes left in the middle frame, with pure delight visible in his celebration.
The Bees fought hard throughout the game, but the stellar showing of Skinns kept them at bay and allowed the home side to play with confidence despite the number of players still missing through injuries.
Stewart, who only arrived in Milton Keynes a few hours before puck drop, notched his second goal of the game just four minutes into the third period, earning himself a man of the match performance in the process.
Ari Narhi scored with eight minutes remaining in the game thanks to the smart passing of Leigh Jamieson, who was utilised in his previous position as a forward in this game, to great effect.
Defenceman Ross Green finished off the scoring for the Lightning before the Bees picked up a consolation goal with just under two minutes left.
The cheers rang around the arena as the final buzzer sounded, showing how much the fanbase appreciated the performance and the two points, which sees the Lightning jump above the Leeds Chiefs in the table.