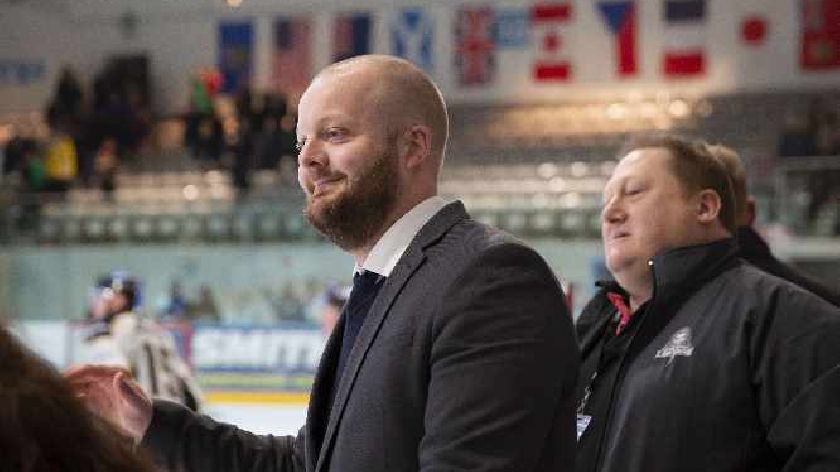 Image Credit: © Mel Dickens
The Smith Recycling Milton Keynes Lightning earned a 5-2 victory over the Telford Tigers on Saturday night and I caught up with head coach Lewis Clifford to talk about the game.
Speaking of the result, Clifford commented: "I think it was good, we were a little bit ragged in the first period. It was a very fast period, it was played at quite a frantic pace and I think Telford were more comfortable with that."
"We came out in the second and we had a lot more composure about our game. We got a lot closer together all over the ice, which makes life easier for everybody and we managed to slow the game down and speed it up when we needed to."
Heading into the game, there was a 21-point gap between the two sides, with Telford still currently sat atop the NIHL National league table.
When asked about how it felt to beat the league leaders, Clifford said: "I honestly believe we're in a league right now where any team can beat anyone and probably will."
He added: "You've got the southern and northern [conferences] so some teams only play each other four times, or you play each other eight times."
"There's quite a lot of parity in the league. You've seen us over the last couple weeks beat teams that are a fair bit above us but then we've lost one game to Leeds, who are below us."
"Anyone can beat anyone and it's teams that start putting runs of games and wins together that are going to be the ones that ultimately move up the table.
The Lightning themselves are on a run of three wins in a row, with Clifford finally having the majority of his roster available for selection on game nights.
When asked about the team showing its potential now that most players are fit, Clifford commented: "I think what we've got now is a good balance across our lines."
"We've got two proper top lines and a really effective third line with G [Grant McPherson], Tom Carlon and Harry Ferguson."
He added: "The team now is starting to look like the team I thought I was putting together in the first place."
"It's taken time and I'm not questioning anyone in previous weeks but, since we've made a couple of changes to the line-up, we've got a lot better balance and we've got threats all over the ice and it just makes everybody's life easier."
The team's three wins have come from an all-around strong showing, but veteran goaltender Dean Skinns has been in particularly good form for the club.
With Jordan Lawday back with the roster for the past few games, Clifford was asked about when fans might see him get some ice time.
Clifford explained: "I think Jordan's ready, at the moment it would probably be negligent of me to take Skinnsy out of the net on the back of three wins in a row."
"Jordan's there, he's ready and he's pushing hard in practice and he'll get his rewards very soon."
"At the moment, it's very much one game at a time, for me and everybody else involved in the team, but I can't fault Skinnsy's work tonight and I also can't fault anything that Brandon did when he was fit."
"Jordan's pushing hard in practice right now and I still have no doubt in my mind that he's the best young goalie in the country."
On the back of Clifford's comment regarding Brandon Stones, who has been sidelined with injury for a few weeks, he was asked about his progress back from the injury.
Clifford commented: "He's getting better, he started skating this week but with the nature of being a goalie, it's quite hard on the lower body so he'll be back as soon as he can."