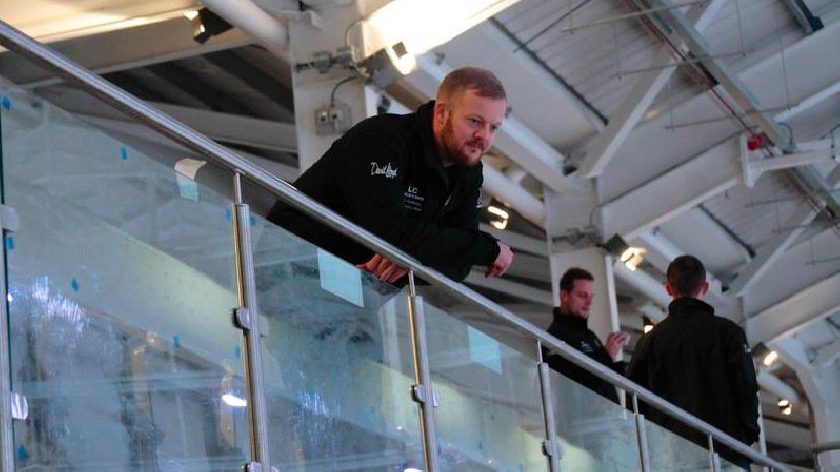 Image Credit: Jez Tibbetts
The Smith Recycling Milton Keynes Lightning suffered a disappointing 5-0 loss to the Sheffield Steeldogs at home last night.
After the game, I caught up with head coach Lewis Clifford to get his thoughts on the team's performance, his choice of goaltender and the return of a club legend to the ice.
Speaking of the loss, Clifford commented: "We played alright in the first period, I think Stonesy [Brandon Stones] kept us in it. He had a strong first period."
"We were playing quite well until they scored the first goal on the power-play, which was a bit unfortunate, it took a bit of a bounce before it went in."
"But from that point onwards until quite close to the end, we just weren't at the races, which wasn't good enough."
Clifford's decision to bring goaltender Stones in for the game was met with a positive reaction from many fans, with his steady performance arguably keeping things closer throughout the game.
Speaking of his choice of goalie, Clifford said: "I think, to be fair, out of the five goals there's one that he'd want back but the other four weren't his fault."
"We've got two good goalies here and I'm happy with either of them being in the net. It's not a case of one plays if the other's injured."
He added: "I want both of them to play minutes this year and the result has nothing to do with who was in goal tonight."
With the Lightning missing five players in this game, former Lightning stalwart and current assistant coach Ross Bowers pulled on his skates to provide cover for the team.
Clifford, a long-time friend of Bowers, commented on his friend suiting up again after his injury earlier in the year: "It's been since February time, maybe early March, since he got a nasty injury."
"The thing is, he's a good player and he's a natural competitor. He'll be feeling it in the morning but he was able to help us tonight and it was great to see him back on the ice."