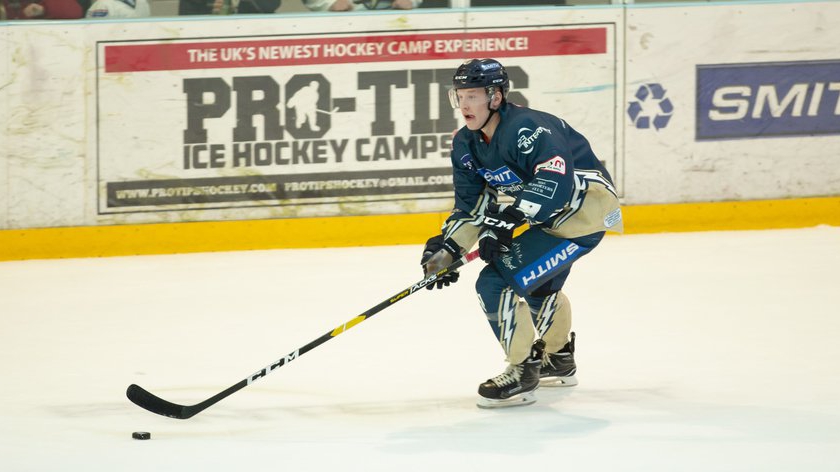 Image Credit: © Mel Dickens
The Smith Recycling Milton Keynes Lightning lost 2-1 to the Guildford Flames in overtime this past Saturday, and the game played host to Harry Ferguson's home debut.
The 19-year-old Scottish forward joined the Lightning after being released from their long-time rivals, the Peterborough Phantoms, ahead of the team's three-game road trip to Scotland.
Prior to his release, Ferguson had been in fine form for the Phantoms, registering seven points (two goals, five assists) in just six regular-season games in the NIHL.
His signing has given the Lightning some extra depth and has added to the team's corps of British players.
Speaking of how the opportunity to join the Lightning arose, Ferguson commented: "Unfortunately, I ended up being released from Peterborough, but there's no grudges there."
"Later that week I got a phone call from Doug [McKay] and he asked me to come skate with the Lightning."
"I took the opportunity and just gave my all in practice and I think Doug liked what he'd seen and we just kind of took it from there and, one thing led to another and I ended up signing here so I'm happy."
Making his debut against the Dundee Stars, Ferguson has now made five appearances for McKay's team.
He has not been with the team for long, but the young forward certainly appears happy with his new environment.
Speaking of how he is settling in with his new team, Ferguson said: "I'm loving it here already, it's only been a week but they're all great guys. I'm settling in nicely, I like Doug."
"There's such a positive attitude in the dressing room and it's such a hard-working team, which is always good to be a part of."
Ferguson's next home appearance for the Lightning comes next Saturday when the Cardiff Devils visit Planet Ice MK Arena.