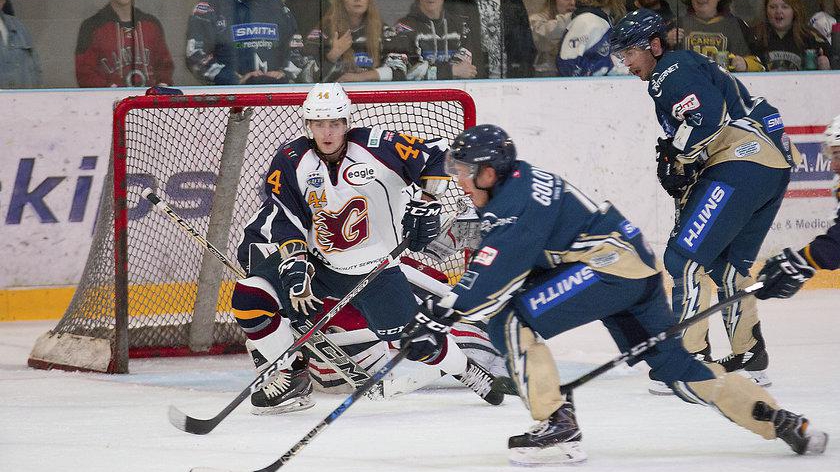 Image Credit: © Tony Sargent
The Smith Recycling Milton Keynes Lightning face the Guildford Flames on home ice this Saturday after spending last weekend in Scotland.
The three-game road trip produced just one point for the Milton Keynes club, though they could have returned from north of the border with four – having led both the Dundee Stars and Fife Flyers heading into the third period respectively.
Doug McKay's team will now be hoping to return to positive home form, with some exciting performances coming in front of the home crowd in recent weeks.
The game against Guildford will host the home debuts of recent signings Robbie Baillargeon and Harry Ferguson.
Baillargeon's impact seems to have been felt quite quickly, with the American forward earning two goals and an assist across the three-game Scotland trip.
The Lightning (3-9-1) will need more of this from their newest signing as they face a Guildford (7-5-0) team currently on a three-game winning streak.
The visiting Flames have two of the top-five point producers in the Elite League this season, with John Dunbar (2G-17A) and (10G-8A) posing the biggest threat.
The Lightning have some players that are more than capable of threatening the Flames' recent winning streak, with Tim Wallace (13), Eric Neiley (11) and Andreas Valdix (11) all at, or around, a point-per-game.
When sporting a full, healthy team, the Lightning have competed well against the rest of the league, but last weekend they were without defenceman Ryan Lannon and forwards Gorgs Golovkovs and David Norris.
James Hounsome also missed last Sunday's game against the Fife Flyers and it is unclear if any of the team's injured players will be ready this Saturday.
Planet Ice MK Arena has been the more-welcoming place for the Lightning this season, with strong performances against the Nottingham Panthers and Cardiff Devils some of the highlights from their home appearances.
The team will be hoping to have a positive return home and earn a much-needed win against their long-time rivals.
The Lightning have competed well with the Flames before and will be determined to avenge the heavy 8-2 loss they suffered back in September.
The Lightning and Flames face-off at 7pm on Saturday at Planet Ice MK Arena.