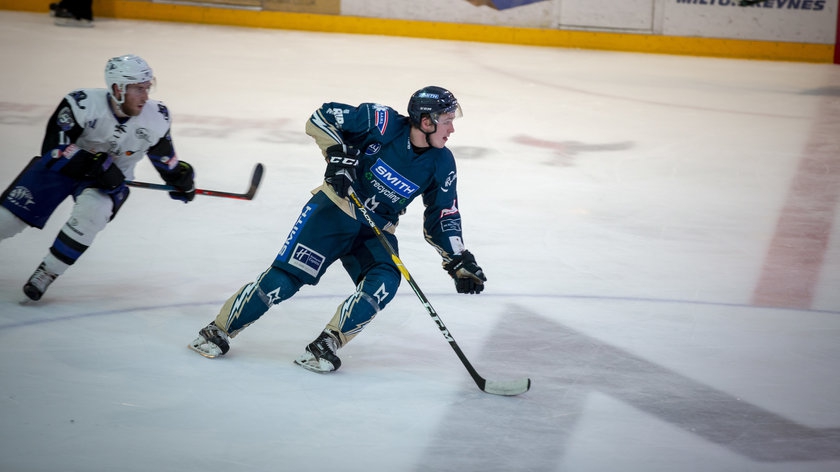 Image Credit: © Mel Dickens
​​​​​​​The Smith Recycling Milton Keynes Lightning's Georgs Golovkovs spoke to MKFM after the team's 2-0 home loss to the Glasgow Clan last night.
The speedy winger received a call-up to his native Latvia's national team training next month, with the Baltic nation competing in the elite level of the World Championships in May.
After last night's loss, a game in which the Lightning produced more chances than the visitors, the fan-favourite commented on the honour.
He said: "I feel really awesome and excited about the coming opportunity. We'll see about how I do there and move on from there."
Golovkovs has been a particular bright spark for the Lightning this season, using his extraordinary pace and stick handling to help him score 12 goals and register 26 total points in 36 league appearances.
The 23-year-old has been involved in a number of crucial goals for the team this season and has become a focal point of the offence.
Despite the team having a number of struggles this season, this has not hampered Golovkovs' enjoyment of the game, or the town in which he plays it.
Commenting on his and the team's performances, Golovkovs said: "Right now, maybe not the best the last three games. It's hard to be in last place but the guys still battle and go out there every game and work hard."
He added: "I really like this place, I love the fans and everything about Milton Keynes so I'm enjoying every game, every practice here. I love it here."
Golovkovs and the Lightning have the unique experience of playing just two home games this week – with no road games scheduled until next Saturday when the team take on the Nottingham Panthers.
The Lightning's next game comes this Sunday evening when they take on the Belfast Giants at Planet Ice MK Arena.