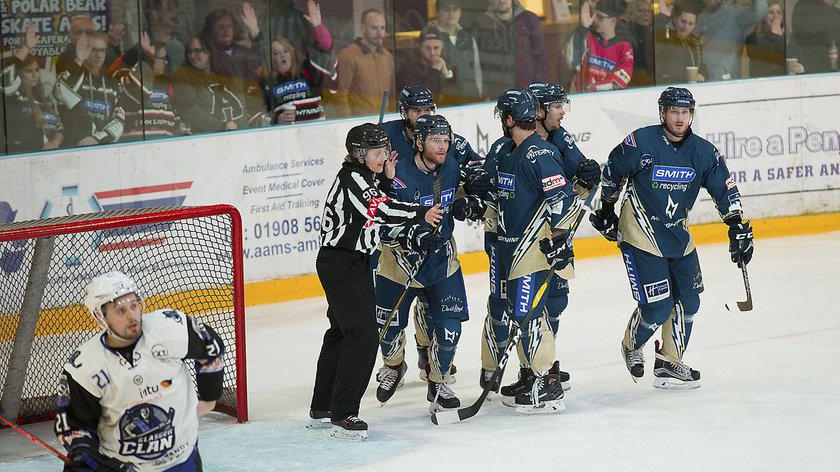 Image Credit: © Chris Dickens
The Smith Recycling Milton Keynes Lightning welcome the visiting Glasgow Clan to Planet Ice MK Arena for a weeknight clash at home.
The Lightning will be aiming to snap a six-game losing streak against the Clan, who head to Milton Keynes holding back-to-back victories - holding a firm position inside the playoff spots.
The visitors will be a threat on special teams, with the Clan's power-play unit currently ranked as the fifth-best in the league with a 21.5% success rate so far this season - the home side, meanwhile, rank ninth with 17.8%.
Both teams rank similarly on the penalty kill, with the Lighting (78.3%) just one place behind the Clan (78.7%), who are currently ranked ninth in the Elite League.
Former Lightning head coach Pete Russell will have plenty of firepower on offence, with Matt Beca (19G-30A), Brendan Connolly (24G-22A) and Scott Pitt (17G-24A) all leading the way in goals and total points.
The Lightning will be relying on the likes of points leader Tim Wallace (12G-23A), top goalscorer Robbie Baillargeon (16G-5A) and Georgs Golovkovs (12G-14A), who was named to the Latvia national team's training camp next month, in order to steal the points away from the Scottish club.
It is unknown whether or not the Lightning's trio of Martin Mazanec, David Norris or Trevor Morbeck will be in contention for tonight's game, with the former two sidelined with injuries while Morbeck suffered from the flu last weekend.
Having any one of those players back would help the Lightning's depth greatly in this game, one that could prove to be a feisty affair if previous games are anything to go by.
The last time Glasgow visited Milton Keynes, it was the home side that claimed all two points with an emphatic 6-1 victory in front of the FreeSports television cameras.
Lightning fans will no doubt be hoping to see a repeat performance, with the team having the luxury of two home games this week - with a Sunday evening clash against the Belfast Giants the only other game this week.
The Milton Keynes Lightning and Glasgow Clan get things underway at Planet Ice MK Arena tonight from 7:30 pm.