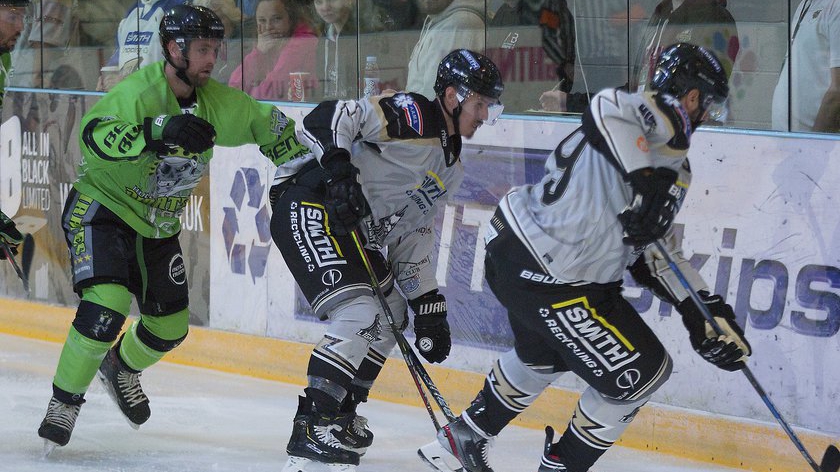 Image Credit: © Tony Sargent
The Milton Keynes Lightning kick-start their 2019/20 NIHL regular season campaign with a home bout against the Hull Pirates this Saturday (21st September).
Lewis Clifford's side enters the new season with a number of fresh faces that have been working hard over the past couple of weeks to build chemistry and adapt to their new style of play.
Results have been largely mixed during the preseason, but a closely fought 2-1 loss to the Pirates last Sunday will be sure to boost confidence for the players and give them a target to overcome on the opening day.
The big question heading into the opening day of the season will be related to the goaltender position, with both Jordan Lawday and Brandon Stones vying for the starting role.
The team's forward and defensive lines look fairly set from the preseason challenges, with Tomas Kana, Russell Cowley and Cale Tanaka expected to lead the way on offence, with Tanaka's skating being a particular highlight over the past four games.
Clifford's men face a tough challenge at home to the Pirates, with Hull currently considered the favourites for the league title.
Former Lightning man Bobby Chamberlain once again has shown himself to be one of the biggest threats in the NIHL this season, with Clifford's side needing to truly be on their toes every shift.
A win on the opening day would be a huge accomplishment against one of the strongest teams outside the Elite League, but an early showing of potential should be enough to satisfy most fans that the team is progressing and working towards being a real contender in the second tier.
Clifford and assistant coach Ross Bowers will be eager to see their players kick things off on a positive note and the opening game will be a good measuring point of what needs to be worked on over the coming weeks.
The game will be a great opportunity to see the players in competitive action with points now on the line, with some of the preseason challenge games already showing their strong desire to battle it out on the ice and give the fanbase something to cheer about.
The Lightning and the Pirates get their seasons underway tomorrow, Saturday 21st September, with puck drop at 7pm at Planet Ice MK Arena.