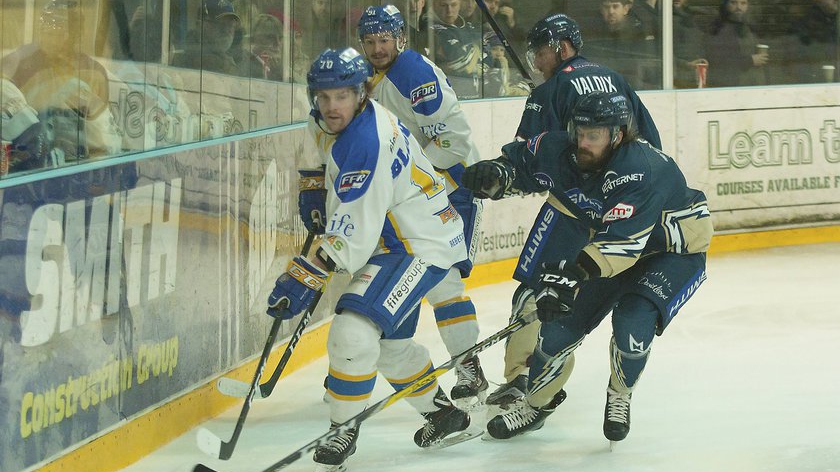 Image Credit: © Tony Sargent
The Smith Recycling Milton Keynes Lightning welcome the Fife Flyers to Planet Ice MK Arena for their final Saturday home game of the 2018/19 season.
The Lightning (14-35-4) have just four home games left of the season, with two more Friday night games to come along with the final regular season game against the Sheffield Steelers on Sunday 31st March.
The Flyers travel to Milton Keynes holding a 26-21-6 record, seeing them occupy the second-last available playoff place – a position the Scottish team will no doubt be hoping to hold on to.
Fans of both teams could be in for a goal-filled evening, with games against the two sides often seeing a large number of pucks hitting the back of the net – with 4-3, 6-5 and 5-2 just some of the final scores witnessed this season.
The visitors will pose the Lightning quite a test on special teams, with the Scottish club holding the third-best power-play in the EIHL with success 20.8% of the time.
Lightning's ninth-best penalty kill (79%) will need to be at its very best if the home side finds itself losing bodies to penalties throughout the game.
The Lightning's own power-play, which has had success 17.7% of the time and ranks seventh in the league, will come up against a well-matched penalty kill – with Fife killing off 81.5% of penalties they face.
Player-coach Tim Wallace is still the home side's deadliest player, orchestrating the power-play and penalty kills effectively, earning 18 goals and 49 total points in 53 league games this season.
Robbie Baillargeon will be determined to eclipse the 30-goal mark before the end of the season, with the American sitting on 27 at present, with 41 total points in just 43 games.
A concerted effort by all in the Lightning line-up could see the team battle well against the Flyers, with many of their recent showings being largely positive even in losses.
The atmosphere at MK Arena will continue to be rocking, encouraging the team until the very last second of play – with a long and largely disappointing season finally beginning to wind down.
The Lightning and the Flyers, in the meantime, get things underway at 7 pm tonight at Planet Ice MK Arena.