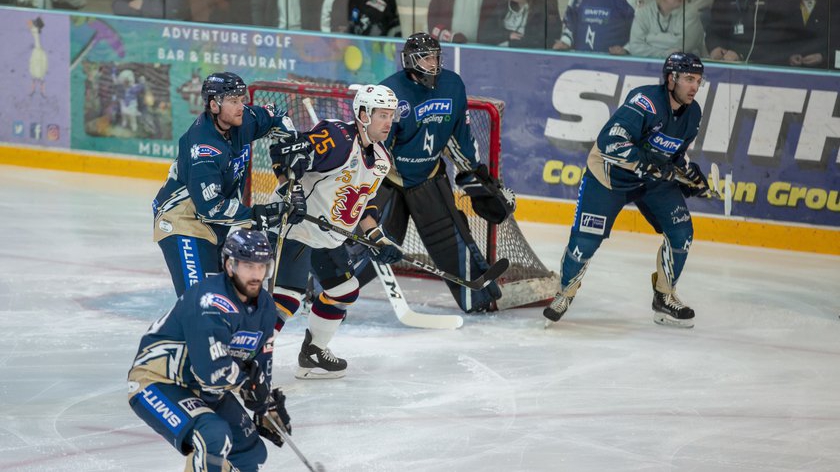 Image Credit: © Mel Dickens
The Smith Recycling Milton Keynes Lightning welcome the Guildford Flames to Planet Ice MK Arena in the first of back-to-back games.
The old EPIHL rivals face each other in Milton Keynes today (26th December) before a return game at the Guildford Spectrum tomorrow.
The visiting Flames will be looking to get back to winning ways after losing their last two against the Sheffield Steelers and Cardiff Devils.
The home side, meanwhile, will be looking to earn a second consecutive win after a thrilling 5-4 shootout win against local rivals the Coventry Blaze this past Sunday.
The Lightning will also be hoping to continue their recent strong home performances into tonight's game, having won three in a row before a close loss to the Devils last Thursday.
Special teams could be the deciding factor in tonight's game, with the Lightning coming up against the third-best power-play unit in the league as well as the second-best penalty-killing unit.
The Flames have success on the power-play 21.5% of the time while also preventing opposing power-plays an impressive 86.7% of the time.
The Lightning will need to be exceptionally disciplined during the game to limit the Flames' opportunities on the man advantage.
The Lightning's own special teams units have improved in recent weeks, with the team now sporting the ninth-best power-play unit with success coming 17.7% of the time.
At even strength, the Lightning possess a strong goal threat in Robbie Baillargeon, who now leads the team with 11 in just 18 games.
Tim Wallace still leads the team in total points with nine goals and 18 assists in 29 games so far in the league and the player-coach's influence on the power-play unit is something that will need to come through strongly against the Flames.
Kruise Reddick and John Dunbar are once again the high danger men for the visitors, with 41 points (17G-24A) and 38 points (7G-31A) respectively.
Three more players on the team are within three points of hitting the 30-point mark so it will not be an easy time for the bottom-placed Lightning.
One thing that will certainly aid the team, however, is the atmosphere at home – with recent road games seeing both Coventry and Nottingham Panthers fans comment on how vocal and lively the Lightning contingency is.
Another positive will be the return of Swedish forward Andreas Valdix, who missed the team's most recent games after receiving a suspension.
Having a full team, with all players expected to be healthy, will help the Lightning greatly and home-ice advantage will need to count against a high-flying Flames team.
The game gets underway at 6pm tonight at Planet Ice MK Arena.