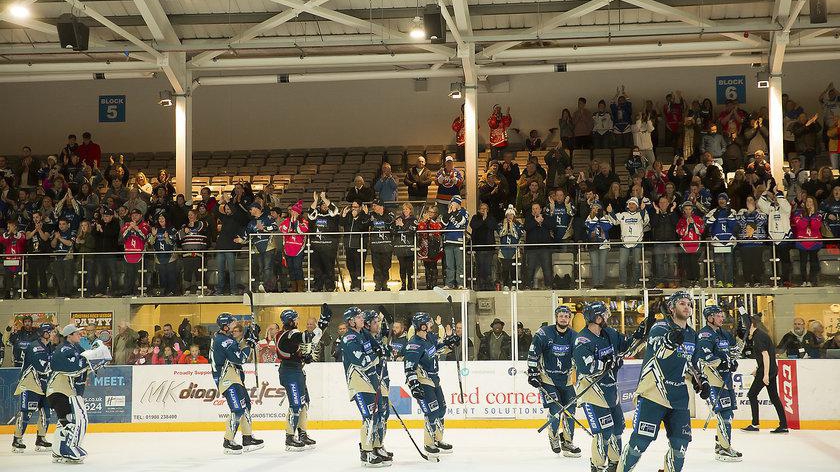 Image Credit: © Tony Sargent
​​​​​​​The Smith Recycling Milton Keynes Lightning have today announced that they will be stepping down from the Elite League, beginning with the 2019/20 season.
The team has announced that it will be competing in the newly formed National Ice Hockey League, which will effectively take the place vacated by the old EPIHL.
Lightning's application to join the league was accepted and confirmed at a meeting of clubs in Warwickshire, with the Milton Keynes team joining the Basingstoke Bison, Bracknell Bees, Hull Pirates, Leeds, Peterborough Phantoms, Raiders, Sheffield Steeldogs, Swindon Wildcats and Telford Tigers.
The biggest change to the Lightning will be the new rules regarding import players, with the new NIHL only allowing two compared to the Elite League's 14.
Owner of the team, Graham Moody, made a statement regarding the decision, commenting: "I'm very excited and optimistic about the Lightning competing in this new league."
"It's going to be a combination of clubs who have faced each other previously and some who haven't, in teams comprising a majority of British talent and two imports. Some old rivalries will be revived - and new ones formed!"
"We appreciate that some of our supporters would have preferred us to retain Elite status. However, the long-term financial viability of the Lightning franchise is incredibly important to us - and it became unsustainable to compete at that level."
"Milton Keynes is a hockey town and we are determined to maintain senior hockey here."
Mr Moody continued: "Nobody wanted this season to be more successful than we did. We acknowledge that mistakes were made - but it would have been a bigger mistake to try and continue in the Elite League before strengthening the already solid foundations with extra sponsorship agreements and higher attendances first."
"Joining the new National Ice Hockey League means we will be able to compete sustainably again and put a genuinely competitive team onto the ice for our fans."
The team's owners will host a Fans' Forum on Thursday 21st March at a venue yet to be announced, getting underway at 7.30pm to explain more about this decision and to allow fans the opportunity to ask questions.