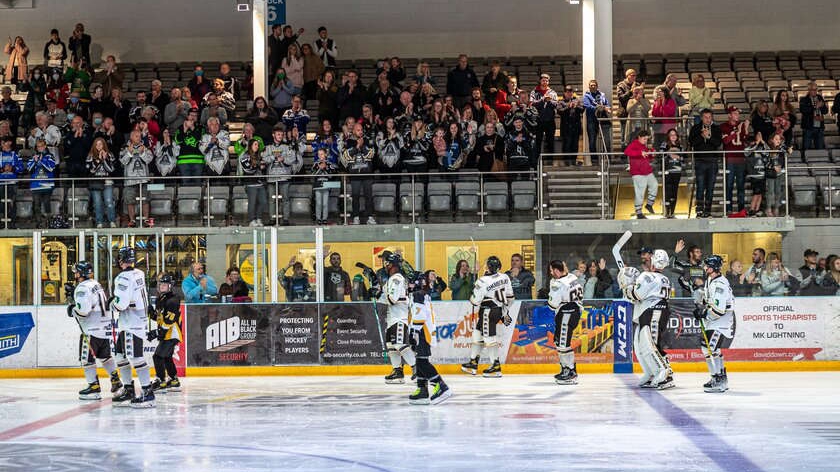 Image Credit: © Tony Sargent
The Milton Keynes Lightning take on the Raiders Ice Hockey Club at home this evening, bringing competitive hockey back to the town after 553 days.
March 14th 2020 was the last time the Lightning played a competitive hockey fixture at Planet Ice MK Arena in front of fans, with an 11-5 demolishing of the Sheffield Steeldogs.
It was the last time the team stepped on home ice in regular season play before shutting down the season due to the growing concerns over the Coronavirus, which led to an 18-month wait for a regular season to come to fruition.
Since the end of the 2019/20 campaign, hockey in the United Kingdom has been limited to a handful of isolated mini series competitions, with the Lightning participating in the Streaming Series back in November while opting not to take part in the Spring Cup back in February/March time.
Head coach Lewis Clifford and assistant coach Ross Bowers will be back behind the bench this season, having already seen their team perform exceptionally well in last weekend's back-to-back pre-season fixtures against fierce rivals the Peterborough Phantoms - picking up a 6-1 victory at home before travelling up to Cambridgeshire for a 6-5 overtime victory.
Clifford has assembled a side with many familiar faces, including long-time stalwarts Leigh Jamieson, James Griffin and Lewis Christie as well as fan favourites Bobby Chamberlain, team captain Russ Cowley and Liam Stewart, with hopes of improving on their shortened 2019/20 campaign and winning some silverware this time around.
The regular season kicks off with the NIHL National Cup, one of the competitions the team will be eager to have success in, while the regular league season gets underway on Saturday 16th October - with the Raiders incidentally the opponents once again.
The Raiders travel to Milton Keynes with a familiar face in young forward Rio Grinell-Parke, who had spent the past few seasons with the Lightning as well as the town's second team the Milton Keynes Thunder - registering 29 points (13 goals, 16 assists) in 45 NIHL National games during the 2019/20 season.
It has been a long wait for fans of the Lightning to see their team play meaningful hockey in person once again and, regardless of the final result, it should be a memorable night for everyone involved, both on and off the ice - though a win will certainly be the hope.
Puck drop takes place at 7pm at Planet Ice MK Arena, bringing an end to an agonisingly long wait for live and in-person competitive hockey here in Milton Keynes, as the Lightning look to get an early win on the board against the Raiders.