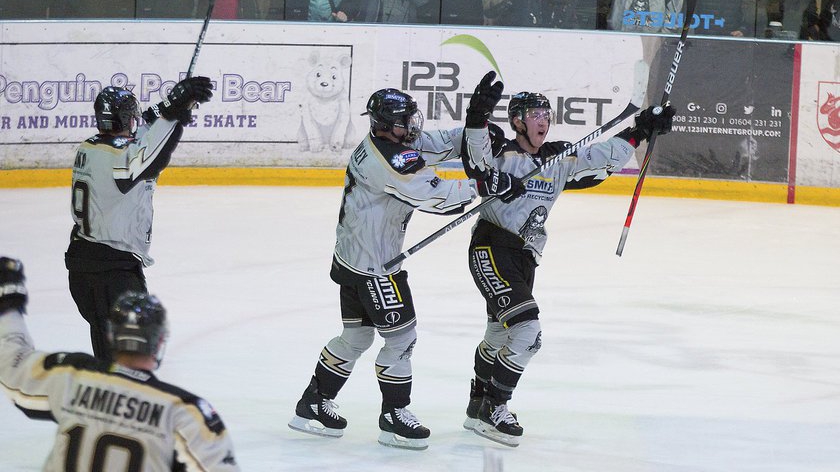 Image Credit: © Tony Sargent
The Smith Recycling Milton Keynes Lightning battled to an impressive 8-7 shootout victory in last night's home game against the Hull Pirates.
Head coach Lewis Clifford spoke to MKFM following the game, commenting on the effort of his team, an impressive debutant and tonight's away game on home ice against the Leeds Chiefs.
Speaking of his team's battling performance, Clifford commented: "It was two-fold, really, the way we kept coming and coming. Every time we went down we wouldn't be beaten and we came again was fantastic."
"However, we can't be conceding seven goals in a game. It's not often that you're going to concede seven goals and still be able to win."
"Tonight, we found a way [to win], which was fantastic, but there are certain areas before tomorrow that we've got to tighten up on and then moving forward from here."
He added: "To see us score seven and then finish it in the shootout was fantastic and hats off to the boys."
"At 7-6, with a few minutes left, could've easily have been beaten but they refused to lay down and die and I'm really encouraged by that."
The game saw veteran Czech centreman Robin Kovar earn four assists in his very first appearance in Lightning colours and Clifford was very impressed with what he saw from his latest signing.
He commented: "Robin's a class player, it's enabled me to switch things around with the lines. Obviously we were missing [Russ] Cowley for a long period of time so I feel we've got a bit more balance across our top two lines."
"He's not quite match-fit because he's had a couple of weeks with no ice time, until he arrived here on Tuesday, but everyone in the building tonight has seen the kind of impact he can have.
"We look forward to seeing that over the coming weeks."
One player that has been in exceptional form recently for the Lightning is Liam Stewart, who bagged himself a hat trick in the shootout victory.
With nine goals in just six appearances for the team, the former Elite League player continues to show what an important person he is for the team.
Commenting on Stewart's play, Clifford said: "It's not just about goal scoring, Stewie's an absolutely amazing guy."
"He's brilliant to have in the locker room, all the boys love him. He works a lot harder than people probably realise, because they look at the goals, assists and the stats but he's great on the penalty kill, he blocks shots and he's a great addition to the team."
He added: "It's an absolute pleasure to have him as part of our team this year."
After seeing the game go all the way to the shootout, the Lightning will be relieved that they do not have a long drive for tonight's game against the Leeds Chiefs, which will take place at Planet Ice MK Arena.
Speaking of the unique situation the team finds itself in, Clifford said: "The boys can have a rest in the morning. Obviously, some guys do travel to get here but no one travels as far as a drive to Leeds."
"The boys get a little bit extra rest and I get a bit more time to look at the video of tonight's game and bring up a few bits that I can show the boys that we didn't do great out here."
"Like I said, we conceded seven goals so it was far from a perfect performance but two points are two points and I'll take it happily."