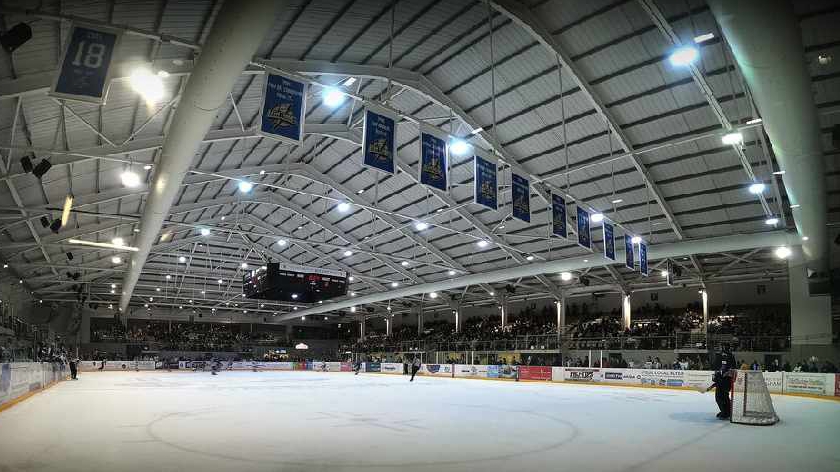 Image Credit: © Tony Sargent
The Milton Keynes Lightning have today announced the return of defenceman Ross Green ahead of the 2019/20 NIHL season.
The 27-year-old blueliner is one of the most recognisable faces in Milton Keynes hockey, having spent his entire career playing in the town, starting with the Milton Keynes Storm before lengthy spells with both the Lightning and Thunder.
Green has spent the past three seasons playing for the Thunder and links back up with Lewis Clifford, who was his head coach over the past two seasons.
The right-handed shot had a successful time in Lightning colours previously, making 361 regular season appearances in the old EPIHL - helping to guide the club to a league title in the 2009/10 season.
Green teams up with fellow defencemen Leigh Jamieson and James Griffin for the first time since leaving the Lightning after the 2015/16 season, giving Coach Clifford's team some real familiarity.
Speaking of his return to the club, Green commented: "I'm excited and happy to be back playing for Lightning, Milton Keynes is my home town, the club I grew up watching as a junior and the organisation I've dedicated so much of my career too."
"Behind the scenes, I know Cliff's been working hard putting together a fantastic team."
He added: "He's got a good mix of up and coming, young talent with some highly experienced guys who have played at some of the highest levels. This should put us right in the mix at the top of the table challenging for trophies."
He concluded: "I'm really pleased Cliff has given me the opportunity to pull that jersey on again this September."
Speaking of his latest signing, Coach Clifford said: "Ross is a player who has played his entire club career in Milton Keynes. He is a very loyal guy and that trait is shown in the way he plays which is full blooded and never giving less than 100% to the club."
"I have coached him since he was a very young man and I am expecting him to lead by example and set the tone for some of the younger guys on the team."
Clifford concluded: "He has excellent skating ability and high skill level meaning he will be a huge part of the new look Lightning team, just as he was in previous incarnations of the club. Ross is a guy we can depend on in a variety of situations, I know exactly what I am getting with him."