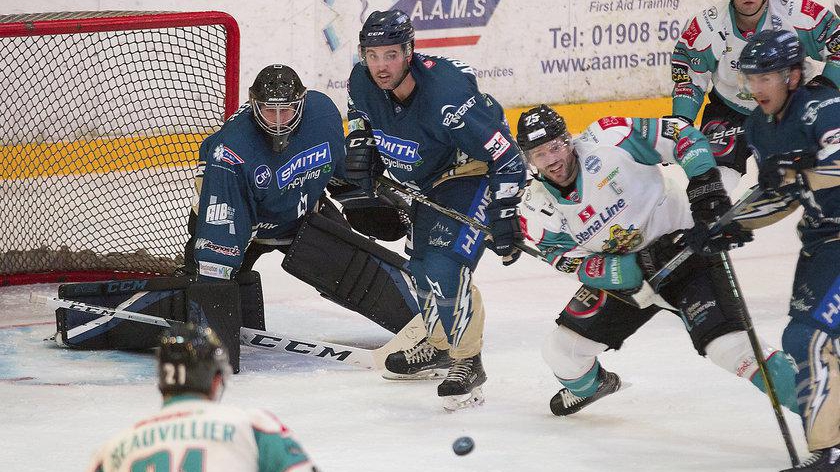 Image Credit: © Tony Sargent
The Smith Recycling Milton Keynes Lightning welcome the Belfast Giants to town this evening, looking to snap a seven-game losing streak.
The Lightning will need to be ruthless in front of the Giants net if they hope to overcome the second-placed team.
Only two goals have been scored by the Lightning in their past three games, with the team going close a number of times but not getting much luck.
Robbie Baillargeon, for example, saw one of his shots ricochet off the goal post in the team's mid-week loss to the Glasgow Clan.
Speaking to Lightning TV after that loss, player-coach Tim Wallace stated that the team would need to try and dig out some ugly goals if they hope to steal points away from Belfast.
Baillargeon is the team's best hope of scoring, with the American's positioning in front of the net often allowing him some threatening shots – leading to his 16 goals so far this season.
Wallace and speedy winger Georgs Golovkovs are currently joint-second in scoring, with 12 goals each.
The Lightning's power-play (17.2%) and penalty kill (78.7%), which both rank ninth in the league, will need to be at its very best when coming up against the Giants.
The Belfast side sport the second-best power-play (25.3%) as well as the second-best penalty kill (85.1%) in the entire Elite League.
The Lightning's power-play has looked threatening at times this season, but consistency is something that the team will no doubt agree needs to be improved.
Goaltender Tyler Beskorowany will be a huge factor for the Giants, with the Canadian holding a 28-7-1 record, averaging just 2.09 goals against and a save percentage of .927.
If the Lightning hope to finish the week off with points, they will truly need to be at their best, which is difficult when the team is still without forward David Norris and hasn't been able to play a full roster much this season.
The Lightning players give it their all every game and have kept teams close, with the team now needing to take as many shots as possible to give them a chance of overcoming the odds tonight.
The Lightning and the Giants get things underway with 5:15 pm face-off at Planet Ice MK Arena.