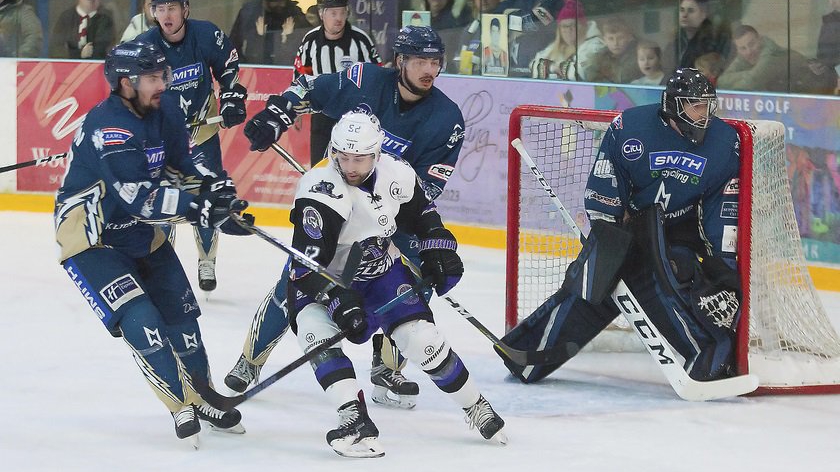 Image Credit: © Tony Sargent
​​​​​​​The Smith Recycling Milton Keynes Lightning's losing streak extended to ten games after a 4-2 game against the Glasgow Clan on Sunday (3rd February).
The Lightning looked lively in the first period, getting a few threatening shots in on goal within the first ten minutes, with Radek Meidl seeing one shot collected into the chest of the Clan's Gary Russell.
The Clan ended the period with the majority of shots, but it was the home side that edged ahead with Meidl tapping in a neat pass from Owen Griffiths right in front of the net.
The Lightning had been the victim of a number of penalty calls in the first two periods, with a David Norris holding penalty and a James Griffin slashing penalty both being killed off in the first period.
The second period, however, the Lightning were not so fortunate – seeing Trevor Morbeck sent to the box in confusing circumstances, with the American adjudged to have embellished at some point, despite the Lightning being in possession of the puck.
Within 40 seconds, the Lightning found themselves fending off a 5-on-3 penalty when Michael Fine was sent to the box for tripping.
The Clan took advantage and former Lightning forward Guillaume Doucet scored the tying goal with just one second left on Morbeck's penalty.
The Lightning managed to kill off Fine's penalty, but the visitors scored the go-ahead goal just ten seconds later – this time through Gerard Hanson.
Just over ten minutes passed when Doucet added his second – a simple tap-in after a 2-on-1 breakaway from the Clan.
Milton Keynes continued to battle, despite the 3-1 scoreline, having a number of shots saved by the goaltender, one coming off of his mask.
The game saw Norris step onto the ice in front of the home crowd for the first time since early December and the young Canadian forward looked impressive from the off.
He battled hard for the puck, particularly in the offensive zone and his hard work was rewarded when he brought the home side to within one with his second goal of the season.
Things continued into the third when the Lightning were gifted a power-play just one second before the end of the second – with Scott Tanski sent to the box for hooking.
The Lightning were given two further power-play opportunities in the third but were unable to get beyond Russell.
Goaltender Patrick Killeen was pulled with around 90 seconds left in the game, with Hanson slotting home the visitor's fourth goal of the game – securing the points and seeing the Lightning drop to their tenth consecutive loss.