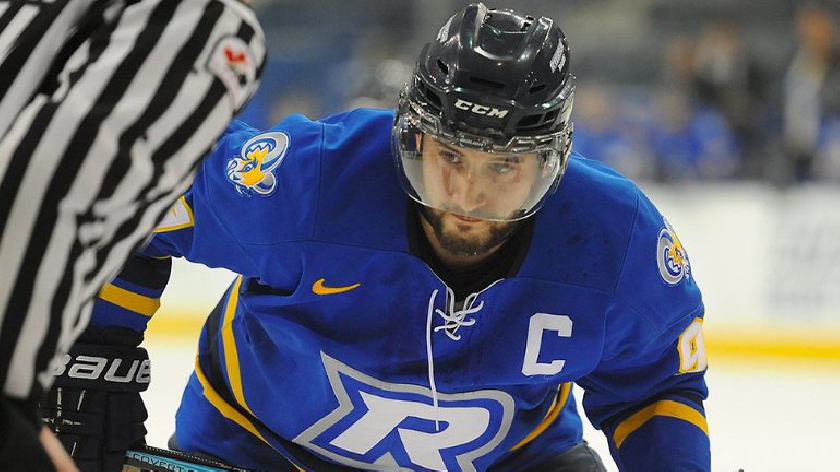 Milton Keynes Lightning centre Michael Fine is excited to play in the UK and is looking to make fans proud this season.
The 27-year-old Canadian has joined the team after spending last season playing for the Esbjerg Energy in the Danish Metal Ligaen, earning 20 points (13 goals, seven assists) in 46 regular season games.
But he is now ready for the next stage of his career and is looking forward to representing the Lightning in the Elite League.
Speaking at the team's media day, Fine was asked what attracted him to the Lightning.
He said: "My conversations with Doug [McKay], first and foremost."
"He came across as a great guy and a good coach, someone that I would enjoy playing for."
He added: "The, of course,e I had never been to the UK and I've always heard great things about the UK and London, and being close to London was a great attraction for myself."
Fine has spent the majority of his career playing in North America, spending five years in the prestigious Ontario Hockey League – one of the premier junior leagues in the world.
He then took his talents with him to university, where he spent five years representing the Ryerson University Rams, being named an alternate captain in his second year before holding the coveted captain's 'C' for his final three years.
Now in the UK, the 6-foot, 201lbs centre believes he brings a variety of skills to his new team.
He said: "I would say I'm a character guy with a little bit of everything, I don't mind the rough stuff."
"I definitely like to be an offensive guy and like to be counted on for those situations, power-play guy, but just helping the team any way I can to win."
While most of his career has been spent in North America, his single season playing in Denmark has certainly helped set him up for playing in the Elite League.
When asked about his time playing in Denmark, Fine commented: "I think it'll go a long way, last year was my first year playing on Olympic sized rinks."
"Learning the angles and learning the speed of the game and how to use that ice to your advantage I think can go a long way for myself and I'm looking forward to using that this season."
Fine is not the only MK Lightning signing that played in the Danish league last season, with defenceman Clay Anderson having played for the Aalborg Pirates.
Anderson and the Pirates earned the team's second-ever championship as well as the Danish Cup and Fine thinks the American is a good addition for the Lightning.
When asked about playing against Anderson last season, he said: "He was a smart player, a really good player for his team."
"They obviously went on to win the entire league and the championship so he comes with a good background."
He added: "It'll be nice to be on the same side this year."
Fine also spoke about the differences between hockey in North America and Europe, noting that there are some similarities.
He said: "I think over here it's a lot more focused on speed, skill. This league is a bit different just because there are so many imports and so many people coming from North America so I think that familiarity will be there."
"But, for the most part, it's a lot of skill and a lot of speed over here, bigger ice. Back home it's pretty physical, smaller rinks, but I think both over there and over here have a lot of similarities."
Milton Keynes Lightning begin their season on Saturday 8th September against the Sheffield Steelers and Fine is looking forward to getting started.
He concluded: "I feel good, I'm excited. I think we've got a good group of guys here. We're looking forward to putting on a show for our fans and making them proud."