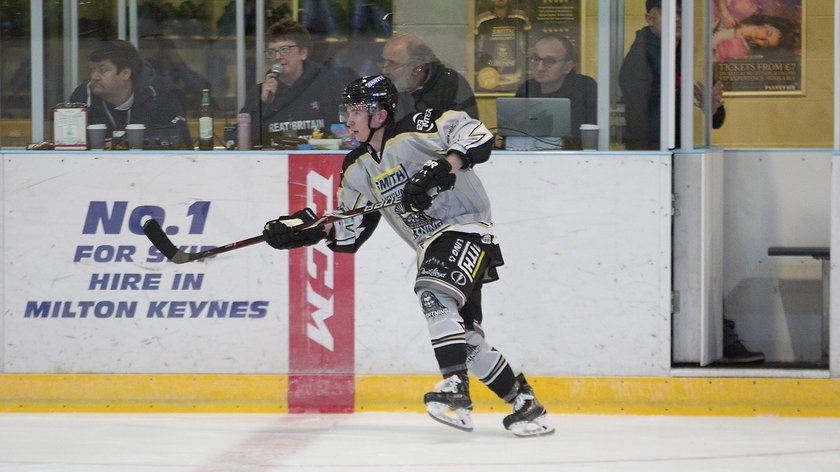 Image Credit: © Tony Sargent
The Smith Recycling Milton Keynes Lightning have today announced that promising young forward Logan Prince has joined the club on a permanent basis.
The 22-year-old forward has plenty of experience under his belt at the NIHL 1 and 2 levels, having spent time with the likes of the Milton Keynes Thunder, Bristol Pitbulls and Oxford City Stars.
He has also suited up twice for the Lightning already this season and put in a couple of impressive performances that have led to head coach Lewis Clifford bringing him in for the remainder of the season.
Now a permanent member of the Lightning, Prince will don the #49 jersey this season.
Speaking of his latest signing, Clifford commented: "Having had Logan play for me for the past two years I know what he is able to bring to the team, he has as high a work rate as you will find and he does exactly what is asked of him every time he steps on the ice."
He added: "Logan has done everything I have asked of him both in the past and in his appearances so far this season and I am happy to be able to add him to our roster for the remainder of the season."
With Prince joining the Lightning from the Milton Keynes Thunder, Clifford gave thanks to the club's management, saying: "Antti [Kohvakka] and Lauren [Cox] at MK Thunder have been very understanding and helpful and I would like to thank them for allowing Logan to leave and take the next step in his hockey career."
Speaking of his joining the Lightning, Prince said: "I'm really excited to be joining Lightning for the remainder of the season. I'm looking forward to pushing my game to the next level and developing further."
"I have played for Cliff for a few years and alongside a few of the current Lightning team and I know what is expected of me and I will do my very best to meet those expectations."