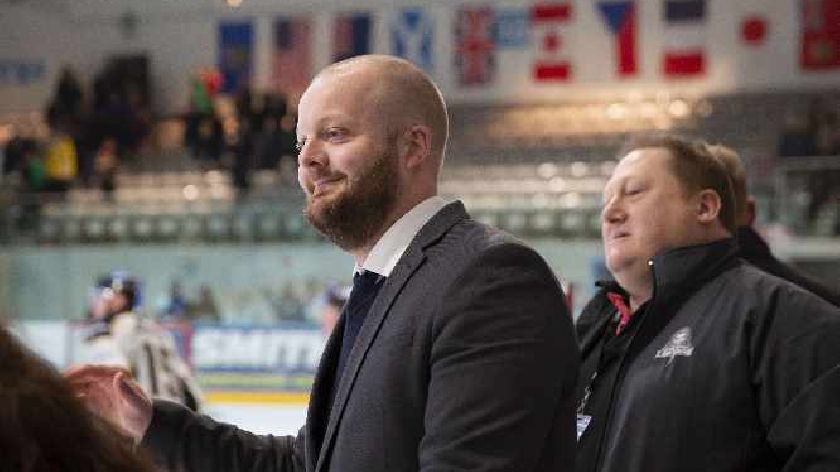 Image Credit: © Tony Sargent
The Milton Keynes Lightning head coach Lewis Clifford spoke on his team's 4-3 overtime victory against the Raiders last night, the first competitive home fixture in front of fans since March 2020.
The Lightning snatched victory from the visitors, thanks to Sean Norris' effort a minute-and-a-half into overtime, and Clifford spoke post-game about the team's performance as well as playing in front of fans again.
Speaking firstly on the fans, Clifford commented: "Last Saturday was great, and tonight's even better because we're actually playing for points."
"It's going to take some time, there's things we need to work out, just like every coach would tell you in the league. It's not perfect, it's far from polished as you saw tonight, certainly in the first period-and-a-half, maybe two periods."
He added: "But the fans were outstanding again like they were last week, and you don't take that for granted. We need to put on a performance that makes them make that noise, but they were fantastic like they always are and it certainly played a massive part in our comeback and ultimately the win."
Speaking on the performance in general, Clifford commented: "Scrappy, it's the best way to describe the first couple of periods."
"We got into trying to play a game that's not our game, and not only were we trying to play like that but the conditions like the ice weren't suitable to try and play that game either."
"We got too stretched, guys were too far apart. I think, as the game wore on, we settled into it, we got much closer together and started working in twos and threes rather than trying to work in isolation."
He continued: "Ultimately, that led to the result."
"All of the goals were nice, and I think we could've had one or two others that deserved a goal at the end of certain plays, but their goalie played well. Stonesy played well, when he was called upon."
He concluded: "It wasn't one for the purists, but seven goals and an overtime win, I think everyone got their money's worth and hopefully went home happy."