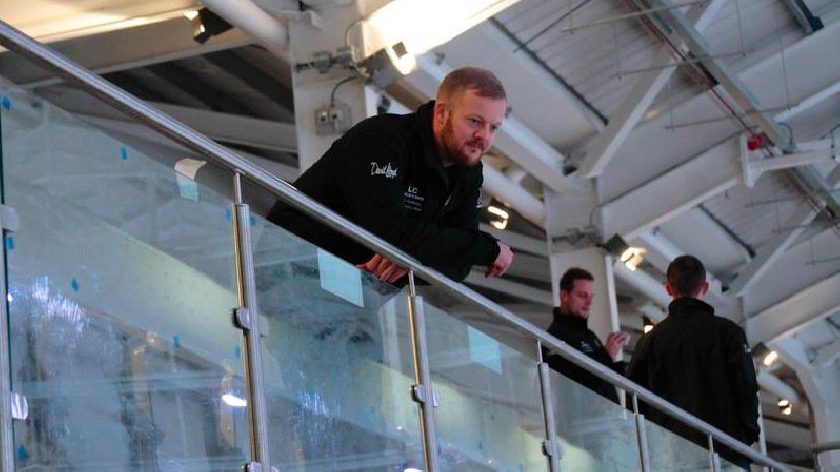 Image Credit: Jez Tibbetts
​​​​​​​Following the recent news that the arrival of Head Coach Doug McKay has been delayed by league-wide visa problems, the Milton Keynes Lightning have confirmed bench coaching arrangements for the start of the campaign.
It's been confirmed that Lewis Clifford - Head Coach of the Milton Keynes Thunder NIHL team - will be acting Head Coach for the Lightning at this Wednesday's road game against the Coventry Blaze.
Known to many hockey fans in Milton Keynes as "Cliff", Lewis is a well-known and popular figure in the town's hockey scene.
Clifford was Assistant Coach at the Lightning for six consecutive seasons and is about to begin his second season as Head Coach at the Thunder.
During his playing days, he made over 240 appearances for Thunder as well as dressing for both the Lightning and Oxford City Stars before committing to coaching.
Clifford commented: "I didn't foresee this situation arising but I'm happy to help where I can to enable the Lightning to prepare for their season."
"I'm delighted to be able to assist them and looking forward to seeing some familiar faces supporting MKL at the Skydome!"
MK Lightning team owner Graham Moody said, "Firstly our thanks to Lewis for agreeing to help us, and to Thunder's General Manager Dave Fairhurst for allowing this to be possible."
"To be able to compete, we must have a level two coach on the bench; Lewis has been in conversation with Doug for a short while and we've been able to reach agreement with Thunder that allows Cliff to work with us on Wednesday."
"We'll review the situation on a game-by-game basis. For all we know, Doug's visa could be approved tomorrow - or it could be another week, maybe more."
"But we're hopeful the situation will be resolved in the very near future."
Lightning face Coventry Blaze in pre-season challenge action at the Skydome Arena Coventry at 7.30pm Wednesday 29th August.